Newsjacking has been a buzzword in the digital PR space for a while now and I often think of it as akin to E-A-T in the SEO space – it's something that everyone knows about and if you get it right it can have a significant impact on your client's results. Knowing where to start with newsjacking can be tricky especially if you're doing it for the first time so let's take a look at how we approach newsjacking and what we need to do to ensure that we get the best results for our clients and land those all-important placements. 
So What Is Newsjacking?
Chances are you are probably already familiar with the term newsjacking as it's a pretty common term that gets used in day-to-day language but for those who aren't familiar, the concept of newsjacking involves jumping on a trend or something that is topical in the news and adding to the conversation that might be through adding an expert comment or sending over some data that's relevant to the conversation and can add value to a piece that a journalist might be currently covering.
The reason newsjacking is such an effective digital PR technique is that combines two of the most important elements that go into a great story, that is relevancy for the journalist – you're jumping on something that's happening right now, and also adding value to the conversation through data or expert opinion, you're adding real value to a story that journalists already writing and that's a surefire way to get coverage for your client.
Newsjacking comes in two formats, that's proactive and reactive depending on when in the story you add your comment or expertise, both can be really effective from a link acquisition perspective and if you're prepared, then chances are that it can be quite a quick turnaround project. So let's take a look at how we can approach newsjacking to ensure that we get the best results for our clients and land some great placements and coverage across the board.
Preparation
Preparation is absolutely key when it comes to newsjacking as you want to be able to jump on a trend as quickly as you possibly can. This means putting some time in to gather images that they might want to use, look at areas of expertise and understanding who the best person to be the spokesperson is, and also any additional resources that they have available which you might be able to use to supplement their comments.
Stockpiling all of this information beforehand can help to make your newsjacking experience a lot smoother – we recommend having a sit down with your client to run through the newsjacking process and gather this information before you start your outreach – this will help you to improve your turnaround times and make sure that you're able to jump on that emerging story as quickly as you possibly can.
News Listening
One of the most important elements of an effective newsjacking campaign is understanding what is topical and trending, finding topics that journalists are likely to cover – this means looking at what's trending in the news and finding something that's relevant to your client that you can add value to.
There are a number of different ways that you can conduct news listening but we've included some of the most popular options to get you started:
Twitter
Twitter is a great place to start when you're looking for new ideas and the trending hashtags are a great place to get your inspiration from. This can give you a good idea of topical issues that people are talking about, topics that are trending across the UK and also internationally, in addition to topics that people like to talk about and are maybe in the public interest.
Twitter has a "trending" section where you can understand what people are talking about – this can also be broken into areas such as "News", "Sports" and also for your local area. Additionally, if you are looking to research into a specific area, you can research specific hashtag data to understand how many people are talking about a specific topic.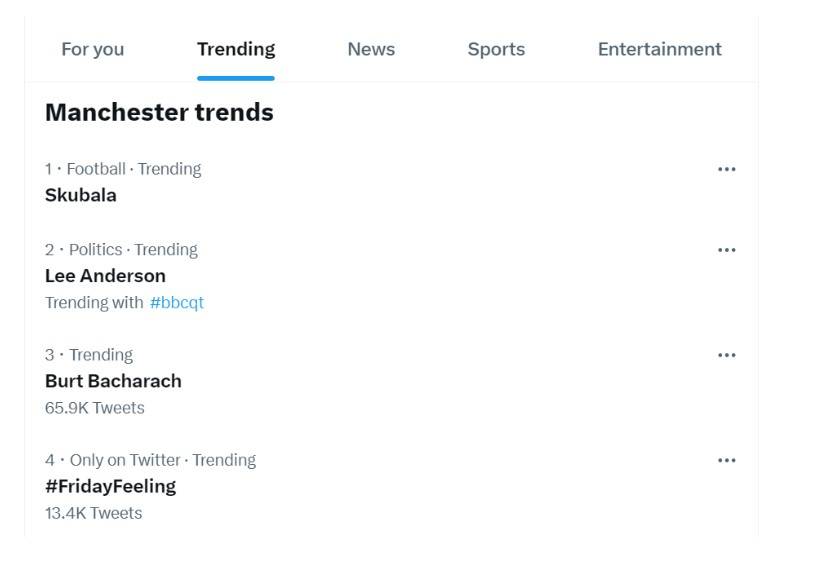 Twitter is a great way to get a feel for what people are talking about – and also what is topical in the news – so it's worth keeping this open throughout your day. Additionally, using hashtags like #journorequest and #prrequest can help you keep on top of what journalists are looking for – another great way to get an idea of relevant topics you might want to cover. 
2. TikTok
TikTok is another great way to find out what is topical and trending and you can trendjack really quickly with the user generated content – getting a great idea of topical stories that are in the public interest by also looking through engagement metrics.
If you have a TikTok Business account then you will also have access to some of great hashtag data and trends information that is available and you can find this across two main dashboards to help your news research – the first one is the general trending dashboard which goes through all of the trends from the last seven days: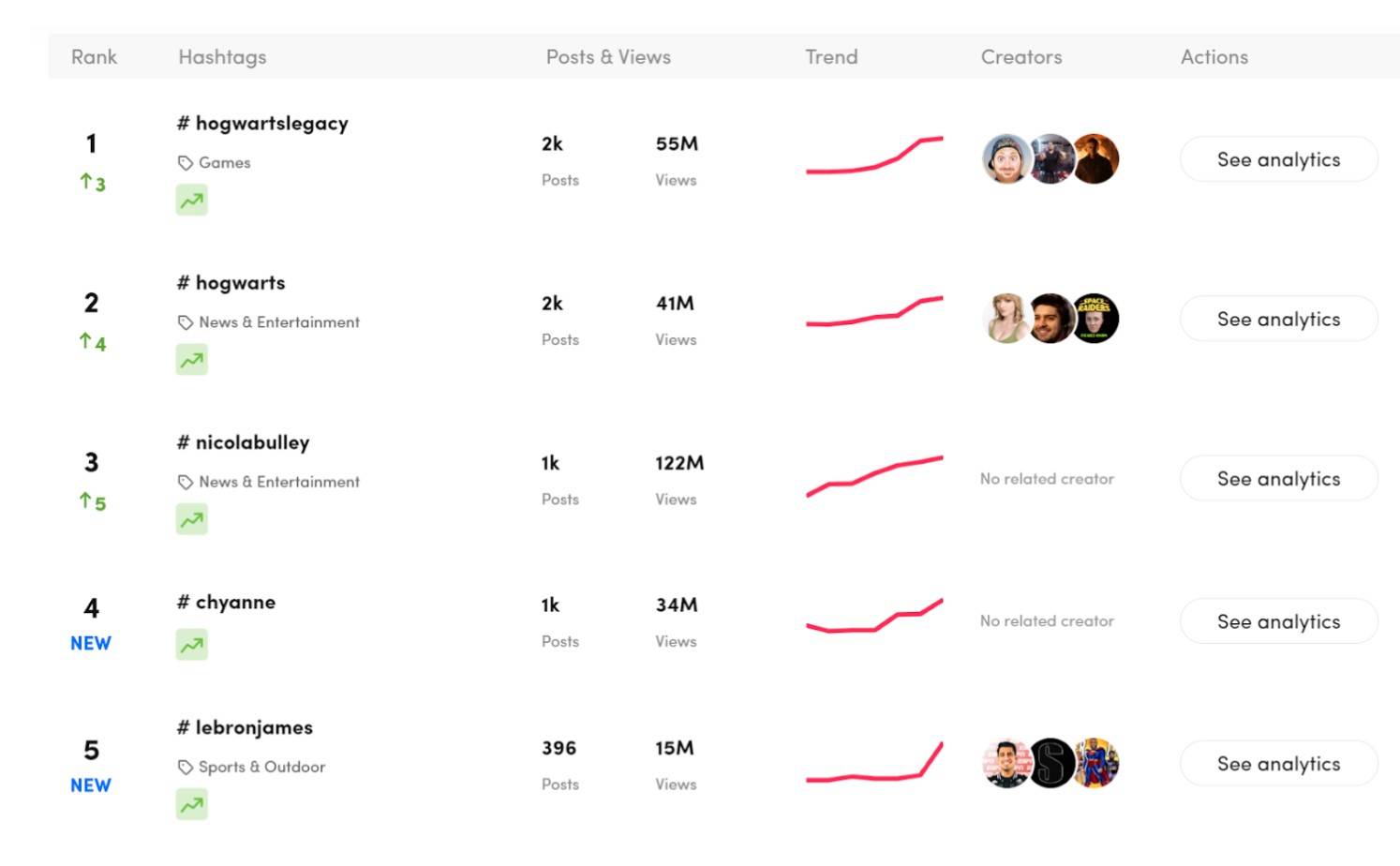 You can also drill down into further detail around each of these specific hashtags to understand where they are trending and with which audiences (as well as their related interests which is great for helping you to build your media lists!). This information can give you great regional insights as well as tell you more about their age range and demographic information: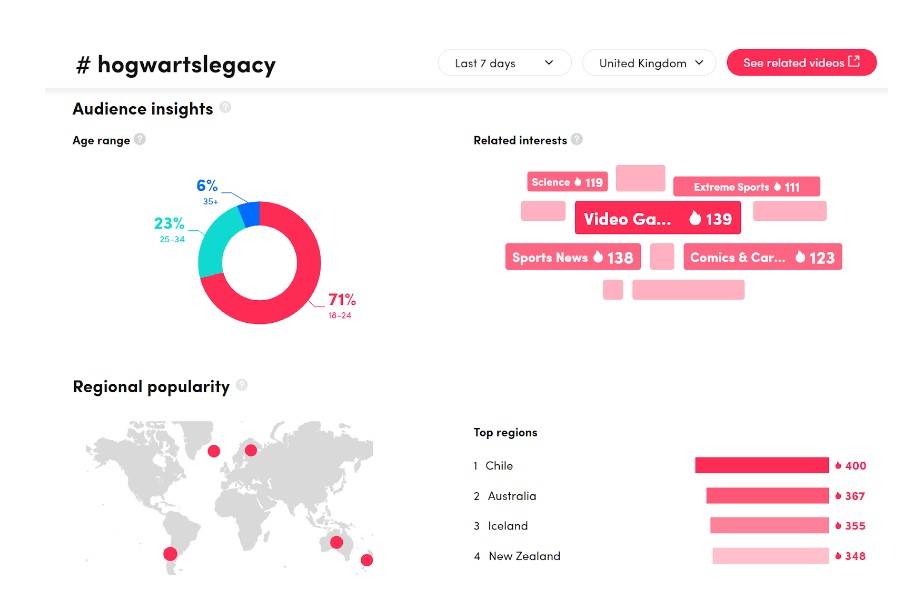 You can also just use TikTok generally to research data around a given topic by monitoring hashtag data and getting an idea of how people are approaching the topic / what they find of most interest. This is particularly valuable if you are looking to create content that targets Gen-Z who are usually avid TikTok users.
3. Google Alerts
Google Alerts provides a great way to stay on top of topics that are trending around your client and have them delivered straight to your inbox. By setting up notifications within Google Alerts it will email you every time there is news around a particular topic, your client name or something that is related to. This is a great way to stay on top of breaking issues that are topical to or related to the services or products that your clients sell.
It's relatively easy to set Google Alerts up, but we would recommend setting them up in a subfolder of your email inbox to avoid being inundated with alerts as they are coming in throughout the day. Set these up separately and spend some time running through them to see if they are relevant for your client, over time you'll become accustomed to the types of news that this is pulling out and you can adjust your filtering to make this more relevant as you need to. This is a great way to jump on something that is topically relevant for your client without having to sift through an entire news site to find the information.
4. Upcoming Reports
Upcoming reports can be a great way to get ideas for newsjacking particularly if it's proactive. there are a wide range of industry bodies who published reports on a regular basis ranging from weekly through to daily, and jumping on these reports and putting your client into the centre of the conversation, is a great way to newsjack and really add that element of expertise and relevancy to the links you are building through to the website.
If you aren't sure where to start with reports then try some popular industry bodies – places such as the NHS and the ONS are frequently reporting on a wide range of topics and you can easily find a way to link please through to your clients. In many situations these bodies will also have a calendar that you can access which showcases the types of reports that are coming up, this allows you to plan in advance so that you can support to ensure that you're able to quickly jump on this trend once the report comes out.
Reports are really effective way to newsjack because they're topical and they're data-led – something which journalists love, so if you're looking for ideas for your newsjacking then have a look at relevant industry bodies that are related to your client and the types of reports that they have coming up to see if there's somewhere that you can add expert commentary and topical value.
5. Event Calendars
Event calendars are a great way to undertake proactive newsjacking and we often find that many publications publish their upcoming calendars for the year in advance,so this is a great way for us to prepare for upcoming events and to plan ahead some ideas for proactive newsjacking.
Keep up to date with your favourite publications and don't be afraid to reach out to editors to ask them if they have a publication calendar in advance, this can help to give you an idea of the topics that they are looking to cover and the type of content that they might be more likely to include within their pieces.
As a result it is valuable to use this to guide your newsjacking because it already gives you an idea of what journalists think is relevant and what readers are likely to engage with, therefore making it more likely for your content to be picked up if it is relevant to this topic
6. Colleagues
Often in Digital PR we find ourselves the victims of trying to come up with all of the ideas ourselves and it's hard for everyone to always be on top of what's in the news and what is a trending topic – so why not use your colleagues? We set up a group chat where we encourage our colleagues to post something that they've read that is newsworthy or trending – that could have been something that they've read in the newspaper that morning or something they've seen on TikTok or read on Twitter.
By encouraging our colleagues to contribute in this way we are getting a much bigger pool of information that we can use to take ideas from and chances are that many of us are reading different publications or fall into different TikTok algorithms, so this can be a great way to get a wide range of newsjacking options.
Research
Once you have undertaken your news listening it's important to thoroughly research an idea before you start as you want to make sure that the idea hasn't been done before and that someone else isn't currently working on it. You also need to ensure that any information you are bringing to the table is offering a new opinion or something that hasn't been published before, after all, that's what journalists are looking for – a new angle on an existing story.
The research is important to ensure that you're bringing something fresh to the story – so how do we go about undertaking research to understand topics and areas that journalists have covered before? Here are a couple of ideas for tools that can help you:
Buzzsumo
Buzzsumo is a great way to get an understanding of topics that are covered recently or topics that are popular with the press. You can use this tool to understand the types of content that journalists have covered recently, which journalists have covered which types of content and also in what volume so you can really start to understand how many people are covering a particular topic and therefore a) has it been done before and b) is it likely to be picked up by a particular journalist.
One of the other important metrics that was talking give you if social shares and while this isn't a direct impact on SEO performance, what it can help to show you is how engaged a particular article is and therefore potentially how many people are likely to read that article and how much it is in the public interest – this is a valuable analysis before you start investing your time into creating content around that topic.
Using tools like Buzzsumo allows you to understand how well your content is likely to land as well as to ensure that hasn't been covered before and therefore that you're not wasting your time.
Google News Search
Google News search is another great way to understand how content is landing and this can give you an idea again of topics that have been covered before, the types of journalists that are likely to cover your content and also any angles that you could potentially pursue that haven't already been done.
We often use Google News to understand what is topically trending when we pitch to new digital PR clients – that helps to give us a overview of the market and understand what types of stories have been covered in recent times, but as a client you can also use this to understand if a topic has been done to death, even a bit or if there is opportunity to add a new angle into a pre-existing trending topic.
Use External Tools
In addition to Google alerts and external tools that you can also use to help with your research. One example of this is semrush and you can use this tool to understand topics which are trending and also at the types of search volumes around specific keywords or topics that you might be looking to cover.
You can also use tools like the Topic Research tool to understand popular trending topics and how they are evolving over time. This allows you to type in a particular keyword/topic and evaluate topics around this that are currently being covered/talked about – this is another great way to check that your topic hasn't already been covered, or to help analyse a new angle or approach.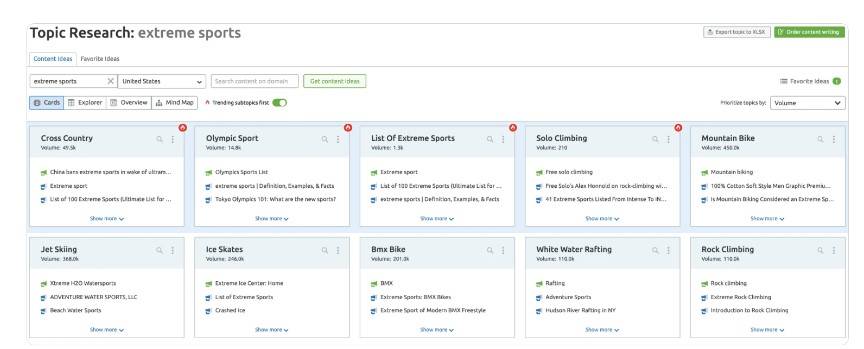 Research is key to ensure that you don't waste your time undertaking a campaign which has already been done and that you are able to bring a fresh angle and approach to the story. 
Ideation & Creation
The ideation and creation stage plays an important role in any newsjacking campaign and this is where you pull everything together. So you take the information you found within your research, you take anything that's topical and trending and relevant to your client and you can bind it all together to create a great story, piece of data or angle that delivers great coverage for your client and also insightful information to a trending topic.
The ideation stage has a number of different parts to it and this includes:
Brainstorming
Brainstorming is when you put your heads together and come up with some great ideas as to how you can get your client coverage in a story. Brainstorming can take a number of different formats but it's a great idea to get the whole team together. If the client has time this is also a great opportunity to get them involved so that they can lend their expertise and showcase this.
Try and come up with a number of different ideas and angles and run them past your client to see what they are comfortable with and which best showcases their expertise and their data. Once you have a couple of ideas, start to narrow them down until you've selected the options that you want to go for.
Identifying Your Angle
An idea is nothing without an angle that adds value to the article or the story – this is often more important than anything else, you need to bring something fresh to the article, so identifying your angle and making this clear early on is important to getting coverage.
Look at what has already been done and hone in on the value that your data or expertise can add – do you have something new to bring to the conversation? Do you have data that showcases an additional angle on a regional/international level? Identifying your angle plays a key role in ensuring that journalists feel that your content adds value to their article.
Tapping In On Expertise
Make sure to tap into the expertise of your clients if possible, this will of course give you a great angle when you're approaching a story and will help you to identify how you can add value very quickly.
Feel free to sit down with your clients to really understand the areas of expertise or to conduct an interview with the spokesperson to understand the types of angles that you could look for, tapping in on the expertise will really help you to showcase this through the content that you're creating and also to add real value to the article.
Creating The Right Content
Creating the right type of contact is also really important whether this comes in quote format, whether it's a piece of data or whether it's simply a couple of lines having a new angle to an existing story.
Having a look at the types of content that journalists are covering and the format this is in will help you to identify how to best approach the content that you want to create, to ensure it's the right type of content that the journalist would like to cover. Having the right content and the right angle will help to get your content placed and is an important part of the newsjacking process.
Creating The Right Format
Creating the right format for your content is also very important, this means how you display the content and the type of content that you're sending to journalists.Make sure to include any assets that will help support the story this could be high resolution images or associated data tables and always remember to clearly state your methodology for any data analysis pieces that you're doing this is important to ensure that the journalist is comfortable to cover your content and also that you explain where you've got the data from and at what time. 
Outreach
Once you have the idea and you've pulled it together into a press release with the supporting information now comes one of the most important parts – the outreach. Using the right tagline, contacting the right journalists and creating a killer press release are all important parts of this process and to ensure that you get your coverage landed we'd recommend the following steps:
Research Your Journalists
Researching your journalists is super important to ensuring that you are sending your content to people who are likely to cover it and who have a genuine reason to cover it/interest in the topic. There's a number of different ways that you can research journalists and these include:
Using tools like Buzzsumo to understand which journalists are covering similar content or similar topical areas

Researching on Twitter – most journalists announce moves on Twitter, make a note of these and start to follow these journalists – they will often do a shoutout if they are looking for a specific type of content to cover

Manual research through Google News – looking through Google News and other web indexes to understand journalists who have covered the topic recently and any articles where you could reach out and add a new angle

Look at specific topic journalists i.e. journalists who cover soaps, finance, travel etc… add these to your list for the topical coverage
By researching journalists in advance you are more likely to build a list of journalists who are more engaged with your content, therefore leading to better overall results and avoiding sending unrelated content to journalists who may find this annoying.
Build An Effective Media List
An effective media list plays a key role in ensuring that you're giving your content the best chance of getting covered, so taking time to build your media list is time well spent. When pulling the list together, call on your journalist research to understand which journalists you want to include on your list, you can then follow this up by using a journalist database tool (we use Vuelio) to source relevant emails and start to build out your list. Remember that relevancy here is key so you need just enough journalists to ensure you get a good reach, while at the same time you don't want to flood journalists who aren't interested in your content.

Monitor Opens & Trends
Data plays an important role in an effective newsjacking campaign so make sure that you monitor your opens and trends to understand how journalists are engaging with your content.
Using tools which allow you to track open rate will help you to understand how journalists are engaging with your content, over time this will help you to understand which journalists engage with which type of content and will naturally make your content more effective – using data in this way can help you to streamline your outreach is very effective.

Follow Up
It's important to follow up your content and press releases – don't just do one push, always follow up with a couple of different pushes at different times. It might be that you caught a journalist when they were particularly busy, or that they already have a full news roster for the day, by doing follow ups you can ensure that you're continuing to push your story out and you may find that in many instances it lands on the second or third push.
It's also valuable to follow up when something particularly relevant has landed in the press – send your press release along with some updated comments or information on something which is trending topically, this can be a great way to get it included in a news round up or timely news story.

Rework Content Where Needed
Don't be afraid to rework your content where you need to. You might find that you actually need it in a different format, that it's a little outdated or that you need to use a new angle. You always have the opportunity to update your content, so don't be afraid to launch it at different times of the year with new, up to date information, or a slightly more relevant/different angle – reworking content can often be a great way to land content which perhaps didn't place the first time round. 
Review
Once we've completed the outreach process, it doesn't end there and the review stage is perhaps one of the most important stages – this is where we analyse what went well, what type of content was covered and how we could leverage this for future campaigns. Key areas that we review and look into include:
Open Rate
Open rate plays a key role in our reviews as it gives us a great idea of how journalists have engaged with our content – who has engaged with it and at what rate. Over time this becomes a very valuable metric and one that we can use to understand which journalists are likely to engage with which content, to better inform our outreach process
Publications Covered
Reviewing which publications have covered our content also plays an important role in informing our outreach strategy moving forwards. It's important to review who has covered what type of content and when, which journalist has covered the content and how it has been covered – these are all vital pieces of data to understand how we can best tailor our newsjacking efforts to the right publications.

Journalist Feedback
This is also a good time to review any feedback that you've received from journalists, this could include journalists asking you to remove them from your mailing list, or alternatively journalists who have fed back on what they liked about an article, or what could have been improved/what they needed to support the article. All of this information is super valuable and should be noted to improve the outreach process moving forwards.
Conclusion
Newsjacking isn't just a buzzword, it's an important facet of any effective Digital PR campaign and it's a great way to get your clients at the forefront of the conversation, quickly. To find out more about how newsjacking works, check out our Digital PR services or case studies.