Digital PR Agency | Manchester
Let's talk about links, link building, outreach and Digital PR.
Many marketers know that links are important for SEO, but sometimes they can be tricky to secure - especially in today's competitive SEO market. At Cedarwood Digital, we've created and successfully executed Digital PR & Link Acquisition strategies for a number of clients in a range of industries, from legal and business services to gardening and consumer products. Find out how we do this below.
Digital PR Agency
- why choose Cedarwood Digital?
We are Cedarwood Digital, an award-winning digital marketing agency based in Manchester. If you're looking for a highly effective Digital PR agency to handle your content marketing, link building and online PR campaigns, then look no further. We are a dedicated, driven and innovative team of marketing professionals who's number 1 passion is to create exciting and engaging campaigns. With great media relationships and an eye for a good story, Cedarwood Digital has the innovation and dedication required to make your Digital PR take off.  
We pride ourselves in our honesty and prefer to think of ourselves as an extension of our clients' digital marketing teams, rather than the usual client-agency relationship. We don't have account managers and we won't sell you 'the big dream'. Instead, our Digital PR team will work closely with you to build effective, relevant and creative PR campaigns with tangible results.
We may be small, but our work gets big results. But don't just take our word for it. Check out our case studies to see examples of our successful digital marketing strategies and client testimonials.
Or alternatively, speak to a member of our Digital PR team today and find out what we can do for you. 
– Small Agency Of The Year Winner
– Best Digital Marketing Campaign – Retail – Finalist
– Best SEO Campaign Finalist
– Best Small Digital Agency Of The Year Finalist
– Search Agency Of The Year Finalist
– Best B2C Campaign Finalist
– Best Search Marketing Campaign Finalist
– Best Use Of Search – Retail / Ecommerce (SEO): Small Finalist
– Best SEO Campaign: Small Finalist
– Best Small SEO Agency Finalist
– Small Agency of the Year Finalist
– Small Digital Agency of the Year Finalist
– Specialist SEO Agency of the Year 2020 (North West) Winner
– Best Small SEO Agency Finalist
– Small Agency Of The Year Finalist
– Digital Team of the Year Finalist – SEO
– Small Agency of the Year Finalist
What is Link
Building in SEO?
Link building is the process of creating links from other people's websites to your website to improve your SEO rankings. These links are known as backlinks, because they link back to your website. 
In the past, marketers used quick-win tactics to secure lots of backlinks to try to manipulate search rankings. This included posting lots of links in forums or creating lots of poorly-written articles on low quality blogs. However, Google caught on to these tactics and decided to release an update to encourage marketers to adopt a more organic, holistic approach to link building (they also penalised lots of websites who were hammering the old tactics in the process – ouch). This new approach to linkbuilding focuses on creating engaging, useful content that your customers will want to read, as well as establishing genuine relationships with top tier publications and high quality media. 
Digital PR is the term widely used for modern-day link building. Think traditional PR tactics, applied online. 
As the demand for more organic, creative content has taken shape, marketers have realised that they can use PR tactics to win links and coverage online. The shift towards applying offline PR tactics to digital media reflects Google's demand for higher quality content. Digital PR is harder than just fixing some broken backlinks on your website; marketers need to understand the digital media landscape, what their target audience reads online, how they can create engaging content and how they can get this content published on high quality publications and newspapers. 
Whether you call it link building, outreach or Digital PR, the goal is pretty much the same; using creative and innovative content strategies to get links and coverage online.
Our Digital PR campaigns have been featured on: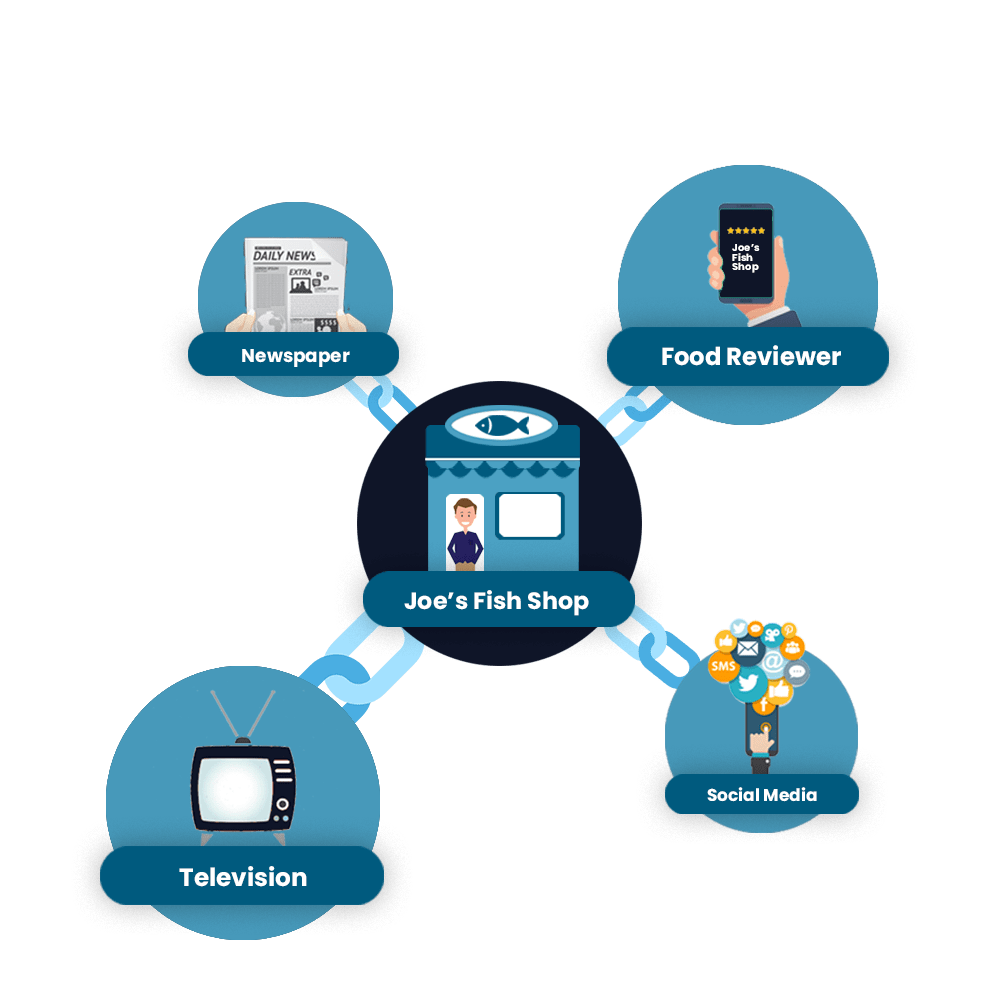 What Are The Benefits Of Digital PR & Link Building?
Effective link building and Digital PR will not only generate links but also create trust, excitement and buzz around your brand.
Some benefits of link building include:
Generates links from credible websites and publications

Improves search rankings for the pages that links point to

Increases relevant traffic to your website

Creates natural 'earned' links that haven't been sponsored or paid for

Raises brand awareness with your target customer

Increases visibility of your brand online

Influences purchasing decisions

Inspires brand loyalty
Why Are Links Important For SEO?
Links are one of Google's top three ranking factors, so they're pretty important for helping your website to rank. Backlinks are like a vote of confidence in the eyes of Google. If a good website links to your website, then they're signalling to Google that they think that the content on your website is valuable and worth linking to. Studies show that Google gives more credit to websites that have a large volume of high quality backlinks. It's about quality, not quantity. Securing a selection of high quality links from newspapers and top tier publications is far better than securing thousands of links from spammy, low quality websites.
What our clients say about our digital PR service
"Cedarwood have forged a lot of extremely strong productive links which have resulted in a huge increase in the online presence of Hayes Garden World. We now have longstanding links with many relevant high profile online and glossy magazines through topical articles, specialist knowledge and product reviews. They have also instigated numerous campaigns which have raised our online profile considerably. These links have been productive throughout the year resulting in our presence constantly being in the public conscious. As a blogger and social media co-ordinator I personally work very closely with the team and find them friendly, approachable and very open to any suggestions."
Angela Slater, Content Co-ordinator at Hayes Garden World

Got a great story to share but don't know how to tell it? We can help with that. Whether you want to share a company update, create  a video, visually illustrate data or just make some noise about a cause you care about, our creative team can help you to share your story in the right medium, at the right time and with the right people.

Journalists love data. Especially when it showcases juicy stats and unusual trends. So, we'll work with you to design surveys that offer an interesting insight into your customer or their lifestyles. That way, the data is not only of interest to journalists for news coverage, but it's relatable to your customers too.

We'll run scans on your website to check for broken links. Broken links are missed opportunities to get link equity pointing to your website, as the value of the link is not properly transferred. So, we'll identify these links and then implement 301 redirects to ensure no link equity is lost. 
Media relationship management
We have a network of contacts at leading publications and will build relationships with key journalists on your behalf to raise the profile of your brand.
From Brexit Christmas trees to plants that grow better with woke language, we can help you create novelty products that excite the media and entertain your customers. 
After conducting interviews with key stakeholders in your business, we can identify Thought Leaders within your company and work them to share their expertise with industry publications and media.
Puzzles are a great way to grab press attention. Not only do they offer journalists a way to keep readers on the page, but a well-designed brainteaser or puzzle can also help target customers learn more about your business offering. For example, if your business sells plants, then perhaps a puzzle that asks readers to spot which plants need watering in a garden scene could be on brand. Whatever your business does, we'll help you design the perfect puzzle. 
We'll monitor news trends and coverage of topics that are relevant to your target audience and your expertise. Then, when the right opportunity arises, we'll work with you to tap into the news trend, perhaps by sharing your expertise or by creating a piece of content that aligns your business with the trending topic and share it with our media contacts. It's a great way to keep your business relevant and connect with your customers.
Whilst we love written content, a picture can paint a thousand words. So, we'll help you to translate your message, information or advice into visuals that are easy to digest and engaging. Whether it's an infographic to highlight a key process in your business, graphics to bring a report to life or an exciting image to get the press talking, we can help you make the most of visual assets. 
How has the pandemic impacted Brits medical care?
Digital PR technique: survey data 
Patient Claim Line needed to diversify their link profile. During a difficult time in the UK from a medical standpoint, we had to get the tone of this content right so opted for an informative data-led campaign which can genuinely help readers. 
Working with a survey provider, we uncovered how British patients feel the pandemic has impacted or delayed their NHS treatment – and therefore their health. We ranked the data regionally to broaden the scope of publications we could target, and provided legal tips about patient rights to add more value to the content.  
The results speak for themself. We earned 121 links – and we're not done yet. This content is evergreen and the stats can be referenced and reworked for months to come! 
Digital PR technique: novelty product 
It's the 2019 festive season and there's one hot topic everyone's talking about; Brexit. So how can retailers get their name in the paper when all the media cares about is Brexit updates and Christmas? Marry the two together. We worked with Hayes Garden World to create The Brexit Christmas Tree, the world's most diplomatically decorated of its kind with 48% dedicated to remainers and 52% for Brexiteers, and a rotatable base to appease whoever you're spending Christmas with. So, whether Brits were dreaming of a Hard Brexit or all they want for Christmas is EU, the Brexit Christmas tree injected some fun into the news scene and helped Hayes make headlines.  
Because after all, Christmas means Christmas.
TV characters owed MILLIONS in negligence claims
Digital PR technique: newsjacking
How do you get a serious medical negligence brand into the mainstream press? Tie it in with popular culture. We worked with Patient Claim line's legal team to create TV show case studies of baffling negligent medical treatment. Did you know Homer Simpson's doctor MISSED a crayon that was stuck in Homer's brain – a negligent act that could see Mr Simpson cashing in on a whopping £80,000? The UK media was particularly interested in our case study on Coronation Street's Jack Webster, who could be entitled to a multi-million pound payout after several medical professionals misdiagnosed sepsis in his leg, which resulted in amputation.
Brainteaser: spot the carol-hating kid in the Christmas scene
Digital PR technique: brainteaser
Our client Rimmers Music needed a links boost in the run-up to Christmas. Whilst the majority of the British population is enthused over carol songs, we decided to release a fun brainteaser to encourage viewers to spot the carol-hating kid in the festive scene.
Whislt the Christmas brainteaser was simply, it flew and was qucikyl picked up by a number of high profile piblications including Yahoo! News, The Sun and Business Insider.
Digital PR, Outreach & Linkbuilding FAQs:
Advice from our Digital PR experts