If you've landed on this blog, or on the website, then chances are you are looking at your options for online marketing and, more specifically, SEO. As one of the most hotly debated forms of digital marketing, SEO often gets a bad rap. The lack of regulation in the industry doesn't help but, when done correctly, SEO can be an incredibly powerful tool to grow your audience, sales and leads. In this article we're going to look at how effective SEO can really help to grow and develop your business offering.
What Is Search Engine Optimisation?
Before we get started on why it's important, let's look at what SEO actually is. In general, SEO is defined as optimising your website with the aim of improving the overall quantity and quality of the traffic. There are a number of different ways that you can do this and, with Google having over 400 ranking factors, different SEOs approach it in different ways. For the most part, the main elements include improving your key expertise, authority and trust signals, answering user intent and purpose, and building a strong reputation.
Why Is SEO Important For My Business?
Often when we meet clients for the first time they aren't sure which marketing mix is right for their business. They look to us primarily for advice and honesty as not one size fits all. When considering which type of marketing strategy to utilise, a lot of people look straight to PPC for instant returns, overlooking the long-term benefits a solid SEO strategy can provide. That said, if you're on the fence about whether or not to go with SEO, here are five reasons why SEO is so important to grow your business:
It targets all areas of the funnel
Unlike other marketing channels which tend to focus predominantly on one section of the funnel, the beauty of SEO is that it has the ability to target users at each stage of the funnel. So whether you are looking to be visible for a very specific high volume search term, or you are looking to increase your overall brand awareness by targeting a range of long-tail keywords, SEO has the ability to do all of this and more.
When we take into account a typical marketing funnel it looks something like this. As we can see, at each stage of the funnel there is an opportunity to target users through an effective SEO strategy: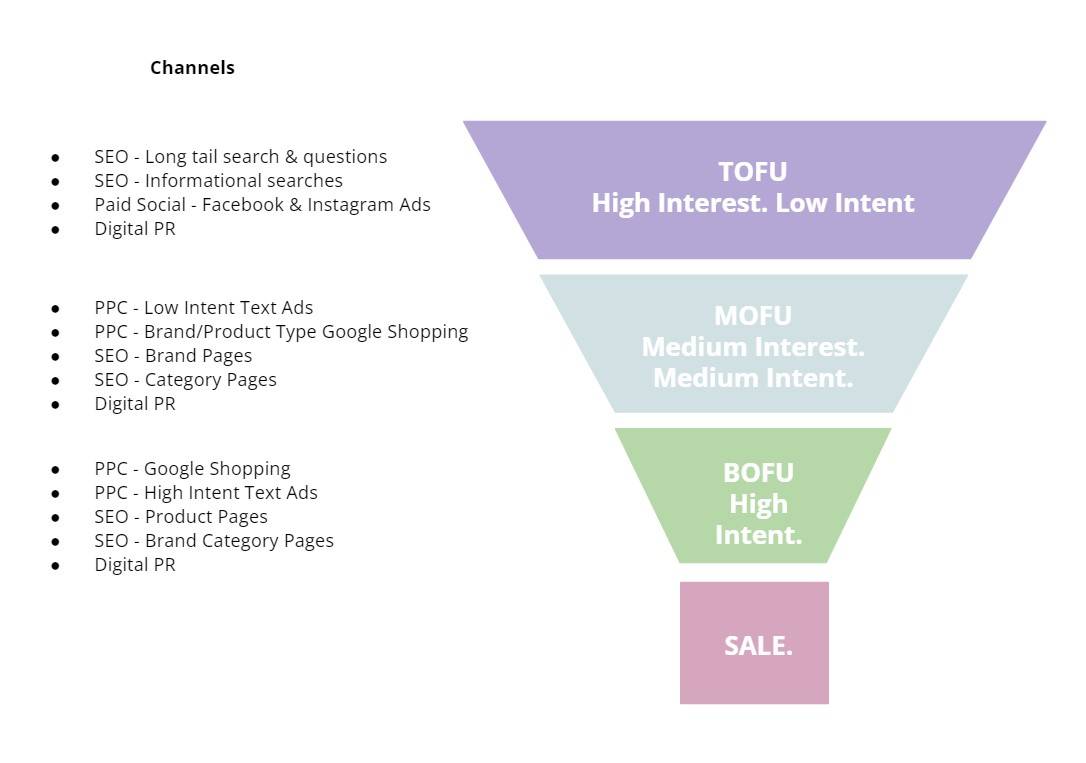 By targeting users in this way you are also helping to ensure that your brand is visible at all target touchpoints. In fact, according to Hubspot it takes around eight touchpoints before you make a sale. So, reaching users at every stage of the funnel will help to get this number up a lot quicker. SEO isn't always an easy sale because it's harder to measure the direct ROAS (return on ad spend). However, by putting yourself in front of your audience at each touchpoint you are giving yourself the best possible chance to attract them at the exact time they are searching for your product or service.
2. It's the gift that keeps on giving
SEO isn't a one stop shop, and while many people refer to PPC as a tap that you can switch on and off, the beauty of SEO is that it really is the gift that keeps on giving. Once you have a campaign that is working effectively it creates a long-term sustainable method of marketing that will drive traffic to your website at all stages of the funnel.
Take for example one of our long-term clients that has been investing in SEO since 2015:

By creating a sustained and effective SEO strategy with continued investment (even during COVID) we've seen great growth across their marketing performance. It has continued to grow YOY and provided a consistent and sustained level of traffic (and leads), which has really underpinned the growth of this brand.
SEO also generates a buildable income. What I mean by that is you are building incremental leads and sales rather than paying for them on a monthly basis. For example, if you spend £10k per month on PPC for 12 months and each lead costs £1k, you'll generate a consistent £1k per month unless you either spend more or make substantial efficiencies. By contrast, if you spend £10k per month on SEO and generate 10 leads but then you grow incrementally, the resulting traffic may result in 12 leads the next month and 14 leads the month after for the same monthly cost. So, again, you can scale without necessarily having to increase your overall investment.
3. It puts you in front of your audience when they are searching for you
Search is one of the most effective forms of marketing because it has the unique ability to put your website in front of an audience at the time they are actively searching for you. Imagine you're a Digital PR agency and someone is searching for a "Digital PR Agency In Manchester." As a Digital PR agency that's exactly the type of user that you want to get in front of at the time they are searching. Therefore, appearing in the search results for that term, specifically in the top three positions, puts you front and centre:

SEO is very effective at targeting users with high intent. These users have indicated they are looking for a particular product or service as they are actively searching for it. Therefore, the type of customers you bring to your website through SEO tend to be a little more engaged and go on to convert. Essentially, investing in this channel can bring you users that have a good level of engagement and are likely already in the market for your brand/service.
SEO does work best for brands and services where there is already search volume. If you are a DTC brand selling a very specific product then there's a high chance you'll need to generate some awareness before you use SEO as a strategy. That said, it's still a valuable long-tail proposition, which allows you to get in front of an audience that might be researching and wanting to find out more about your product.
4. Good SEO will naturally build trust and credibility – enhancing your CRO
By their very nature, SEO strategies, when done properly, will help you to build natural trust and credibility for your website. This doesn't just enhance your external reputation, it can also help to build all important on-site trust signals which can help to naturally grow your conversion rate. The core principles of good SEO relate to E-A-T (expertise, authority and trust). This means looking at the website's authority and trust as well as the expertise that it conveys. By enhancing each of these signals you will naturally boost the trust of your audience.
Matching user intent and purpose is another key SEO principle. By updating your content, to ensure you match user intent and purpose, you will naturally create better content that is more engaging. It will also give the user more of the information they need to make an informed decision. Implementing faqs and other additions which further boost the expertise of the content will add to this further. Thereby helping to establish a better overall user experience, and giving users an insight into your expertise at the same time.
Finally, one of the biggest elements of SEO is trust and reputation. By nature of building this through SEO campaigns you will enhance the trust signals your users get in the form of better reputation content and reviews. Research shows that users spend a lot of time researching reviews and reputation before choosing a brand to go with – especially with so many options now on the market. Enhancing these signals from an SEO perspective can add a lot of value to your overall user experience and conversion rate.
5. It will be around for a while
Although technology is constantly evolving, SEO, in the main part, is here to stay. People will always search online, and though the search engine they use might change and the way that they search might change (cue the rise of voice search), the basic concept of looking for something online and placing your business in front of the user at this time is here to stay.
PPC, paid social and other advertising platforms are constantly evolving with new products, updates and changes to advertising structure. Although these other methods have been somewhat consistent over the last decade, SEO has remained virtually unchanged. With the exception of some small additions to the search results and some additional ads at the top lowering the organic visibility levels, the way SEO operates remains the same, and will likely continue to do so.
SEO is a long term investment, but with the stability of the search results you know that your investment is unlikely to change or go away. When you're investing in SEO you are looking for a long term benefit and return, and once you get there it will most definitely be worth it.
Finally – How Do I Measure SEO?
Measurement in SEO is key. A lot of people give up on SEO or don't consider it because they don't see an immediate return. Good SEO takes time, but being able to measure it incrementally plays an important role in proving why it's a solid investment.
According to HubSpots State Of Marketing Report 2021 around 50% of marketers said keyword rankings and organic traffic are the top ways they measure the success of their SEO strategies. However, this is missing a key ingredient: leads. You can bring all the traffic in the world to a website, but if it doesn't convert then the value is zero. SEO isn't just about traffic and keywords, it's about making real world ROI, which is where the value in an effective SEO campaign really kicks in.
To measure SEO effectively you need to take into account business goals first; what is the business trying to achieve, what generates revenue and what goals do they need to hit? Once you've established this, you can turn it into online goals and targets where you can set incremental improvements. These could start with raising overall visibility, acquiring a certain number of high quality, relevant links or simply completing certain pieces of work. By measuring incrementally you are able to effectively measure impact vs return – something that's important for any marketing strategy.
Before you start work on your SEO campaign, have a clear measurement strategy in place with your agency. This will help to ensure that you're aligned on what you are trying to achieve and that you have assigned clear values on how you can prove SEO ROI. 

Still unsure about whether SEO is right for your business? Get in touch with our team today to find out more about how it could work for you!