Valentines Day is fast approaching, and for many businesses is a crucial time to get your products or services noticed by potential customers. Whether you're offering a romantic dinner location, a flower delivery service, or even hosting a singles event, the high amount of interest in February needs to be utilised.
Needless to say its important to plan your digital marketing strategy in advance – but when is the best time to push your campaigns? To get an idea of what people are looking for and when it's most popular, we've used Google Trends to examine keyword data from February 2018 to look for trends in Google searches in the UK. Using this historical data, you can get into the mind of the consumer, and try to get your business in front of them at a time when they're willing to spend.
Searches for Valentines dates
So when do people start to plan and book their Valentines dates? Most typically, these plans will fall into the food and drink sectors, so we've delved into keyword data related to restaurants and bars to see when people are starting to research.
The most interest in restaurants for Valentines Day was actually on February 14th – so prepare your marketing efforts for last-minute bookers
To look into search trends from last year related to restaurants, we compared terms such as 'valentines day meals', 'romantic restaurant' and 'romantic meal' which can be seen on the graph below (or in a more detailed look here). Granted, some people may be looking for romantic destinations regardless of Valentines Day, but all of the terms show similar patterns nonetheless. It seems there's a steady amount of interest from the end of January until around 7th February when there's a notable spike in interest. Funnily enough, the results show that the most interest in restaurants for Valentines Day was actually on February 14th – so it's worth giving marketing efforts a real push on Valentines Day itself judging by the amount of last minute bookers!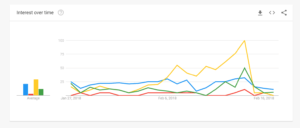 Similarly, those opting for Valentines Day drinks share a similar search pattern. We compared terms such as 'romantic bar', 'bar on valentines day' and 'valentines day drinks' (see more here), and notably the first term with 'valentines' in the phrase had a significant increase on February 1st. There is also a considerable amount of interest on February 13th with much fewer people Googling the terms on Valentines Day itself.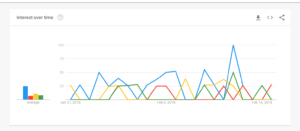 Judging from this data, it would seem that for dates and activities marketing efforts should begin in early February, and bearing in mind that there is a rise in interest around the 7th and then again around the 13th / 14th of February.
Searches for Valentines gifts
Flowers? Chocolates? Or just some inspiration for something less cliché? If you're looking to promote gifts for Valentines Day, its important to bear in mind the generic terms people will be searching for, and when they're looking to buy.
It seems lots of people are looking to be inspired which is the perfect opportunity for sales. We examined popular keywords including 'valentines day gifts', 'valentines day gifts for him' and 'valentines day gifts for her' (see all terms here), which again indicated that it's worth considering starting promoting your products from around January 29th. Again there is a spike in interest around 6th/7th, and a peak at around 12th February which is worth noting.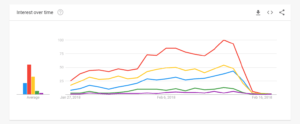 Obviously, those choosing to buy flowers for their partners won't be looking to make their purchase until just before Valentines Day itself to avoid them dying, but it's worth thinking about how much people pre-plan their retailer of choice. As expected, when looking at a range of flower related (including 'florist near me', 'flower delivery' and 'valentines flowers' – all visable here) interest only really picks up momentum around 12th February and is at its highest search volume on Valentines Day itself! The term 'flower delivery' has the most hits on February 13th, so next day delivery promotions may be worth taking into consideration.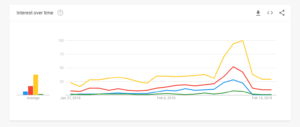 By comparing the searches 'valentines gift for boyfriend' and 'valentines gift for girlfriend', you can see an interesting difference between the searches. The top dates for those searching for gifts for their boyfriend were January 31st, February 5th, and February 12th, whereas when searching for gifts for their girlfriends, this was most common on 8th February. Its worth noting that people shopping from boyfriends seem to be interested from an earlier time but are also much more last minute, so it may be worth running a longer marketing stretch if you're promoting gifts for females compared to gifts for males.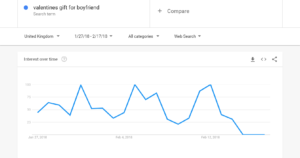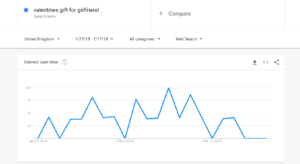 And those who are single?
The market of singletons on Valentines Day is not worth forgetting about! After investigating a range of topics that singles may be searching for around Valentines Day – from spa days, to dating apps, to gym memberships, to singles events – but found that the trends were generally inconclusive.
One thing we did notice was the interest in 'galentines gifts' (see more here), which has a high search volume between the 8th and 13th of February, and could certainly be capitalised on. They may not be useful for your marketing campaign, but we did see an amusing spike in people searching for 'Bridget Jones' on Valentines Day (graph here) and 'cat adoption' shortly after Valentines Day on February 16th (graph here).