In August, Google updated its Page Quality Rater Guidelines. This is something it does from time to time to reinforce the key principles it looks for when evaluating the quality of a page. In SEO circles, these Quality Rater Guidelines are somewhat of a bible. Although most SEOs won't have read them from start to finish (there's over 300 pages!) many will take excerpts from them as a way of trying to understand what Google is looking for. They can then use this information to determine how they should present their websites to make them more 'SEO-friendly'.
In recent years, a number of key concepts have come out of the Quality Rater Guidelines, with perhaps the most significant one being the concept of E-A-T or Expertise, Authority and Trust. While the principle of this has been around for years, it's only in the last few that SEOs have started to look towards it as a way of 'optimising' a website and putting it as a key focus for their SEO campaigns. The little known sibling of E-A-T is the acronym Y-M-Y-L, otherwise known as Your Money or Your Life. There is far less conversation about YMYL but, in many cases, it is significantly, if not more, important than the concept of E-A-T. In this blog we are going to look at what YMYL is and how you can apply the principles to your website to benefit your SEO.
What Is Your Money Your Life?
Let's start with a simple definition and understanding of what YMYL is and how it applies to websites. The concept of Your Money or Your Life was defined by Google to highlight websites which fall into a specific category; that is, websites which impact either your money or your life. As these websites and the topics within them could have a substantial impact on a person, their pages, and the website as a whole, are held to a much higher standard within the Quality Rater Guidelines. If there is an issue with any of the content on a YMYL website, it can have a significant and detrimental impact on an individual.
With the recent update to the guidelines Google has aimed to simplify what it designates as a YMYL website. They have supplied the following guidance and examples, and whilst there are no hard and fast rules, this information helps to demonstrate what might fall into the YMYL category and what might not: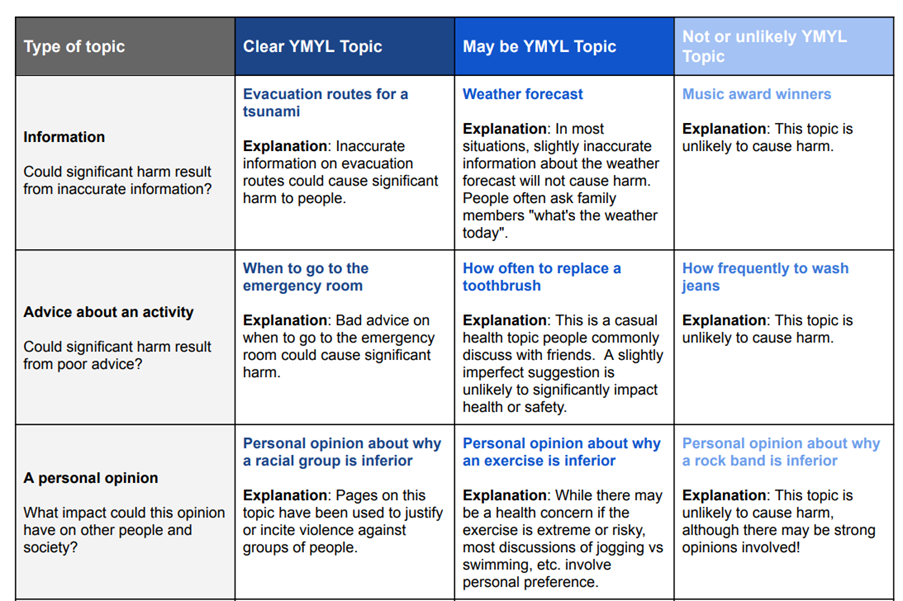 As you can see from the guidance, YMYL really refers to websites which give information that could impact an individual's money or life. Therefore, if your website or one of your clients' websites fall into this category, then you need to get to grips with the Quality Rater Guidelines and start understanding what YMYL is really all about.
So How Do I Optimise For YMYL?
Optimising your website for YMYL focuses around creating great quality, trustworthy content. This content should show Google that your website is a trustworthy place for users to come for information, and to convert and potentially engage in your services or buy your product. There are a number of factors that come into play when it comes to optimising for this, and we will go through them in the guide, but one of the best places to start is to look frankly at your website and ask these questions:
Does my website answer or fulfil the user's purpose?
Do I have well-written authoritative content on my website?
Is it clear who has written my content and what their expertise is?
You can conceptualise these questions into three key areas:

By taking the above approach we can see three key consistent themes across YMYL:
Have we matched User Intent? Are we giving clear information and expertise early on in the piece, and are we also giving reassurance of expertise throughout the content
Does the website have a clearly defined purpose? Can users reach what they need to and is the content up to date?
Who has created the content and what are their credentials? What is their reputation and the reputation of the website as a whole?
With these concepts and ideas in mind you can set about creating a practical SEO strategy with these key themes at the forefront.
Google backs up this approach in section 3.1 of the Google Quality Rater Guidelines. This outlines the most important information that Page Quality Raters should be looking for in this category:

On-Page SEO For YMYL
On-page SEO is a great place to start on your path to YMYL greatness and is also one of the most important areas when it comes to sending the right signals to Google. It is a key area where Google will be looking for you to showcase your expertise and trust, as on-site content is likely where users will start to get an understanding of your brand. Effective on-page SEO is a mix of content with a solid structure that has been created with the user in mind. It is not written for search engines. So, it's important to remember throughout your on-page optimisation that you are writing to gain the trust of the user and, as a result of this, Google will look to trust your website too.
Matching User Intent
Matching user intent and purpose is a key element of the YMYL concept. While this is also a part of E-A-T, its role in showcasing a website's trust and being able to answer the users' questions confidently is very important here. Definitions and FAQs, alongside a clear and concise demonstration of your expertise, will go a long way to matching user intent. To bolster this you should create a website which is easy to navigate and makes it clear how users can contact you should they need more information.
When creating your key pages, such as product or category landing pages, always keep user intent in mind. This can guide how you lay out your content and in which order. It's worth remembering that users don't always scroll to the bottom of your page and so Google might not either. Therefore, ensure that you are matching as much user intent and relevancy as you can at the top of the page, to maximise the benefit.
We've recently done a project with one of our legal clients on matching user intent. As a client that sits firmly within the YMYL category we know it is important that they demonstrate to Google that their site is a trusted source able to answer user queries. In this case, it was something as simple as identifying that high performing competitors had a clear definition at the start of their content and were, therefore, directly answering the user's query. We were then able to optimise our content accordingly.
Authoring Your Content
A key concept of YMYL has always been about who has authored your content. In the most recent update, Google has gone even further to highlight how important the concept of authorship is and, additionally, the reputation of the author. This is a clear signal to show how trustworthy a piece of content or a page is

Authoring content became popular in the SEO community after the Medic update, where we saw a good uplift for content which was well authored by experts. Google now stipulates clearly within the Quality Rater Guidelines that it wants to understand not only who the expert is that has written the content, but also their credentials. Google wants to know what makes this person an expert in the field and do they have the level of trust and expertise to be giving out this information?
It's not enough to just add a 'Written By' with the name and photo of your expert, you now need to qualify this expert. This could be with a short snippet or excerpt of information on the page, or a link through to an expert profile with further details and information. This expert profile could include qualifications, industry accreditations or the number of years' experience. To further qualify this, external links pointing out to trusted websites, such as accreditation boards or websites where they have contributed expert opinion, allows Google to see from trusted third party sources that the person in question is an expert in the field.
By taking the time to build out author profiles, you're not only showcasing to Google the level of expertise that your business has, you're also showing it to your potential audience. This can be a significant benefit from a CRO perspective, in addition to boosting your YMYL signals.
Refreshing Your Content Regularly
Up-to-date content and statistics are a great way to showcase your expertise. If you have content on your website which is out of date, even by just a few years, this can cause issues from a YMYL perspective. Worse still is content that contains information that is now incorrect because it is so out of date.
It's not practical to be consistently updating your content, especially if you have quite a large website. Refreshing key elements of it, including statistics, expert information, relevancy and commentary will go a long way to ensuring that the information on your website is fresh and correct. Auditing your content regularly to ensure that the data is up to date and adding in new external links to data sources (as they become relevant) is a great way to prevent your content from becoming outdated. Additionally, identifying your top 5-10 traffic pages & putting in place a plan to optimise these regularly is well worth it. If they are driving traffic they likely have rankings that you want to maintain. So, prioritising the update and refresh of content on these pages will go a long way to keeping you where you need to be.
Including External Links
Many people are reluctant to include external links across their website as they feel it sends their valuable 'link equity' to another website. While links do pass equity the amount is often nominal, and is far offset by the value of having your website point to other reputable websites and information sources. Linking out to external sources can help to back up your expertise and qualify a lot of what you are saying, as you are linking to sources that can verify the point you are making. As a result it can actually enhance the overall expertise and trust level of your website.
If you are externally linking to other websites, the only caveat is that you need to ensure that the content that you are linking out to is relevant, current and that it doesn't end up as a broken link. A simple crawl which checks your external links is a great way to keep on top of this.
Digital PR For YMYL
Enhancing YMYL signals on the website doesn't just stop at traditional on-site SEO and content. To give a proper level of authority and trust this should be extolled throughout the whole website and also the inbound link profile. Strong Digital PR should play an important role in amplifying these signals & helping to drive expertise-driven links into your website, while improving your overall website authority.
Although in many instances Digital PR is about driving high quality links, there are cases where agencies will build links for links sake and this doesn't benefit anyone. It doesn't benefit the reader as what they are reading about may be unrelated to your website and so there is low user intent. It also doesn't benefit you, as the links that you are drawing to the website don't have that all-important element of relevancy.
Digital PR for YMYL websites should look to really drive relevancy and expertise where it can. That means choosing topics which are closely linked to your website's purpose, product or service. Then ensuring that any coverage or Digital PR, that you are putting out to garner links back to the website, are related to this.
In addition, you should be utilising your Digital PR where you can to extoll the virtues of your expertise. This can be done in a number of ways from thought leadership through to product-led campaigns. Whatever you choose, this strategy can be a very effective way to continue building those all-important off-site trust signals which Google really values.
If you're looking for inspiration for Digital PR that fits well with YMYL, you'll find some examples of recent expertise-led coverage that we've landed for our clients. These links are great value; not only because they are from trustworthy websites, but also because they showcase our client's expertise on an external source, thus delivering great overall value to their campaigns.
Check out some of our most recent Thought Leadership campaigns for our client Hayes Garden World here:
MSN: Modern Rock Garden Ideas
https://www.msn.com/en-us/lifestyle/home-and-garden/modern-rock-garden-ideas-17-contemporary-looks-for-rockeries/ar-AASHAhw
Hello! Magazine: Winter Gardening Jobs To Save Time & Money
https://www.hellomagazine.com/homes/20211101125315/winter-gardening-jobs-save-time-money/
Gardening Etc…: A Guide To Mulching
https://www.gardeningetc.com/advice/ultimate-guide-to-mulching
Express: How To Prevent Your Garden Flooding In Heavy Rain
https://www.express.co.uk/life-style/garden/1481155/flooding-permeable-garden-surfaces-prevent-water-logging
The Strategist: Best Plants For Balconies & Patios
https://www.thestrategist.co.uk/article/best-plants-for-balconies-patios.html
Living Etc…: A Guide To No-Dig Gardening
https://www.livingetc.com/advice/no-dig-gardening
Technical SEO For YMYL
Although technical SEO isn't always seen as effective as on-site content or Digital PR for sending good YMYL signals to Google, it still has a role to play. Good technical SEO means Google can effectively and efficiently crawl your site, and clearly and easily recognise the trust signals. This ensures the reputation of your website remains strong.
Optimising your website technically for YMYL follows a lot of the traditional technical SEO elements, but with an emphasis on ensuring that what Google is seeing on your website reflects a good reputation and authority.
Schema Mark-Up
Schema Mark-Up is a really nice way to tell Google about factors which enhance your reputation, such as on-site FAQs or reviews. This can be a really nice way to help Google easily and concisely interpret your reputation information.
There is a wide range of Schema Mark-Up options that you can use to help Google understand your trust signals, from product and organisation information to reviews and FAQ mark-up. While each of these is valuable, we would recommend undertaking a schema audit to really understand what information you have available and how you can effectively mark-up.
Not sure where to start? If you're new to Schema Mark-up and haven't done it before, we've included below a couple of ideas to get you started:
FAQ Schema – This is a great way to showcase your expertise which is a key element of YMYL. Whether it's product or information pages, FAQs are a great way to show that you are matching and answering user intent. Mark these up with some delicious FAQ Schema and show Google that your website knows what its talking about!

Review Schema – Product reviews? Business reviews? Trusted external third party reviews? Whatever you have you should be telling Google about it! External reviews are a really great way to validate the expertise and trust in your business so why not shout about them? If you display reviews on your website you can utilise Review Schema to mark these up and let Google know all about it.
If you're not sure how to check the schema that is already in place on the website, or you want to audit it, then a great place to start is with Google's Structured Data Testing Tool. By using the tool you can evaluate your existing Schema implementation, check that it's all correctly implemented and identify areas where further schema can be placed.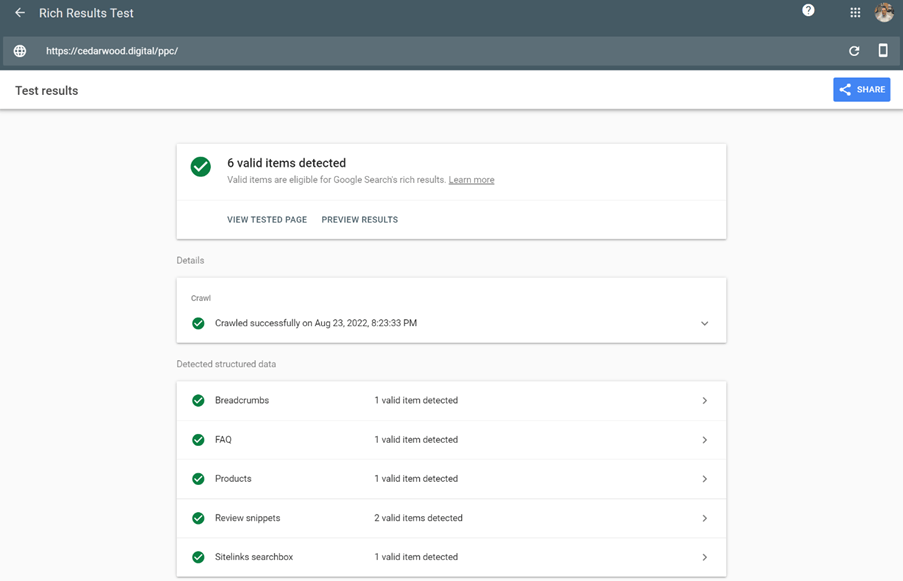 Log File Analysis
Log File Analysis plays a key role in ensuring that your website is YMYL friendly. While traditional crawlers will help you to gather trends around how Google crawls your website, log file analysis will allow you to see how Google is actually crawling your website. This helps you to identify any issues or pain points which might not have been picked up by your regular crawler.
Log Analysis allows you to conduct a deep dive into the way that the Googlebot and other crawlers are moving through your website. This means you are able to analyse which pages are being most heavily crawled and, therefore, which pages Google is potentially looking towards to gain trust signals. It also points you towards any crawl errors, such as broken pages or redirects, which could be impacting crawl efficiency and wasting crawl budget. Crawl errors will send poor quality signals to Google which is, of course, something we are keen to avoid.
We often find during a log analysis that crawl budget is being wasted and if crawl budget spends too much time on pages which don't add value to your website then it's likely that Google starts to view your website as this as a whole, so it's critical that every signal you send Google is a good one and analysing log analysis to see what signals you might be sending is a good place to start.
An effective Log Analysis should allow you to review the crawl across your website and make updates, so that you are left feeling confident about how the reputation of your website is shown to Google. You can even do it with as few as seven days log files. Get asking your server host for those log files and do some digging into that data to analyse how effectively Google is crawling your website!
Summary
YMYL is a key consideration for a lot of websites. Yet there are still people within SEO who focus on the pillars of Technical, Content & Links. They are potentially missing out on clearly defining the underlying principles within their strategy and understanding what Google is really looking for from a trust perspective.
Hopefully you have found the above useful. If you'd like to find out more about how you can utilise YMYL for SEO, or if you website falls into this category and you'd like some help optimising it for SEO, then get in touch!