When it comes to ecommerce, Google Shopping is a great way to get your products in front of the right people at the right time. At some point however, this can become ineffective so how can you use Google and its tools to grow the volume of sales in a way which works for your business?
Google Shopping allows you to advertise hundreds of thousands of products matching users' search queries to product attributes within the feed. When dealing with this amount of products, it's easy to get lost in the structure of shopping campaigns and how to segment them out effectively, especially as Google's standard subdivisions only really include "Brand" and "Product Category." Whilst these are great from a top level, they don't offer the amount of detail or internal insights required to create an effective shopping strategy.
Custom Labels
Custom Labels allow you to group together products in ways which aren't covered by Google's own attributes. It provides greater flexibility in subdividing products and setting up the campaigns to work in your favour, based on different scenarios within your business. To do this you have 5 different "custom label" attributes to use, which means that you can mix and match different ones together to be really granular in your targeting. This can be set up in your existing shopping feed by adding the additional fields with the relevant information.
There are multiple ways that you can segment custom labels out, but here I will touch on five that have worked well in my experience.
1. Stock/Shipping
Many ecommerce businesses will have faced stock and shipping issues, especially during Covid, the aftermath of which could hurt both sales and cash flow. By applying custom labels you can easily split products up into different categories based on their availability and delivery times. You're then able to increase bids and visibility for products that are in stock and ready to be delivered within that week, and decrease visibility for those that have shipping delays or issues. In addition you can alter ad copy to highlight product availability. This is a great way of maintaining cost effectiveness, whilst also ensuring that customers are happy and aware of stock status.
2. Best Sellers/Worst Sellers
With Performance Max, and previously Smart Shopping, a lot of Google's algorithms favour the products that sell well and pull back on those that don't. This is great in the sense that we are getting visibility for best sellers. However, it doesn't help to grow sales for those that are getting less visibility. By using custom labels you can highlight which are the best selling products and isolate them into their own campaign. This allows the under-serving products to generate more visibility as they are not having to compete against products with higher search volumes. This can be really effective in helping to grow sales within an ecommerce account, as it isn't always about just pushing the products that you already know sell.
3. Margins
Margins are crucial to the profitability of a business and it isn't always the highest priced products that have the best margins. Yet Google will be bidding based on product value which isn't always the most effective thing to bid towards. Therefore, grouping your products by margins allows you to adjust the ROAS (return on ad spend) of each segment in different campaigns, ensuring your spending is as cost-effective as possible for the business. That means you can have a higher ROAS for lower margin products and lower ROAS for higher margin products, giving the best profitability potential.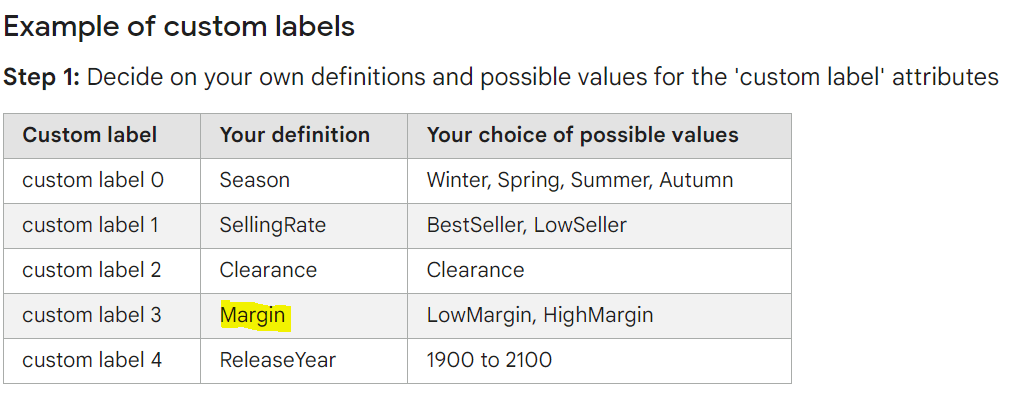 4. Value
If your product range is pretty consistent margin wise, you can group products by value instead. This allows you to really push the higher value products in their own campaign, rather than competing against potentially better selling but lower value products. The result of this can be increased visibility, driving volume and growth of both higher and lower value products.
5. Product Types
If your store has a huge product catalogue, you may want to push one type of product due to weather, seasonality or trends, which can be difficult to do if all of your products are in an automated shopping campaign. Therefore, some businesses could find it beneficial to use custom labels to split products out by product type. This means that the algorithms can learn specific user behaviours and search queries for different products, rather than all products being grouped together which might have completely different user journeys.
Custom Labels Conclusion
All in all, custom labels are a great way to not only segment out products and enable them to serve more effectively, but also to be able to see much more detailed data within the interface. We can now understand and analyse product performance with an extra layer of internal data, using the background information to help guide optimisations and strategy, thereby improving efficiency for both us and our client accounts.