On-site content is a crucial aspect of SEO, without content, users and search engines will not be able to understand what your website is about, meaning that your website will not rank on search engine results pages so it will not be seen organically. If your content is well optimised for your users, you will rank higher on search engine results pages (SERPs) and your website will get more organic traffic.
What is On-Site Content for SEO?
On-site content for SEO is any content that is created for your website with the goal of better matching your user's intent and increasing your ranking on search engine results pages in order to gain traffic to your website and boost your website's trust and authority. The content on your website needs to be user friendly content so that search engines can easily understand what it is about and so that it satisfies the users intent.
There can be many different types of content that you include on your website:
➡️Blog posts – sharing information through blogs 
➡️Guides – longer pieces of content that contain information about a particular topic
➡️Product pages – defines the products that you sell and allows customers to find out everything about that product
➡️Static pages – these pages will stay the same for all users of the website – for example an About Us page
➡️Landing pages – this is the first page that users land on when they go onto your website
The overall goal when optimising your on-site content for SEO is to write user friendly content that will fully answer your reader's question or solve their problem – it should provide them with a specific answer but also it needs to be easily understandable by both the user and the search engine.
How to Optimise your On-Site Content for SEO
Keyword Research
On-site content starts with carrying out keyword research as it will give you the direction of what content should be on your website – you can read our guide to keyword research to find out more about what this is and how to carry it out. Knowing what keywords your target audience are searching for will allow you to identify the specific things users are looking for relating to your website and you can then generate content for your website based on these keywords.
Include Keywords in your Content
When you have found your keywords, it is important to include these keywords from your keyword research in your on-site content so that Google knows what your content is about so that they are able to rank you on search engine results pages. You should use your keywords and long-tail keywords in the title, headings and body of your content, it's also worth using keywords and topics which are closely related to your key page topic, or semantically linked. When using your keywords, it is important for them to occur naturally throughout your content, do not use lots of keywords where they do not occur naturally as Google may peanalise you for this and it will not be optimised for the user. Always remember that Google wants you to create content that matches the user intent.
Long-Type Content
When writing your content, it's worth considering writing long-type content. There are many studies that show long-type content performs very well in search engine results pages.
SerpIQ ran a study charting the top 10 results in a search engine results page by content length. The result in first position contained 2,416 words and the result in 10th position contained 2,032 words: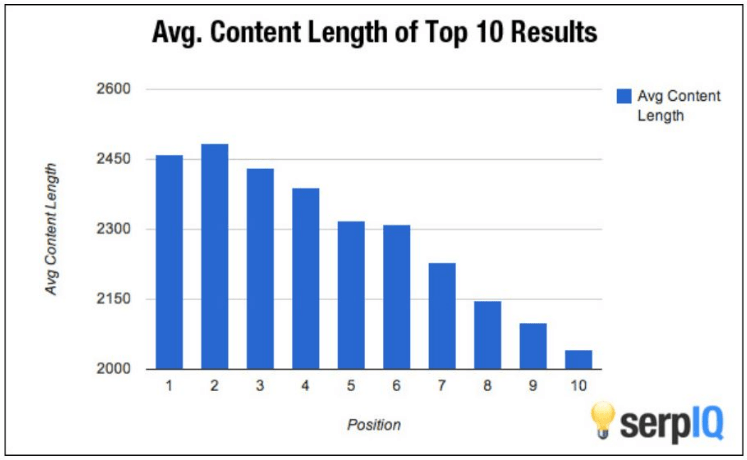 This study is showing that Google prefers longer content. However, this does not just mean that you should write over 2,000 words and think that you will rank higher. The content itself is a lot more significant than the quantity of the content. If your content completely matches the user's needs and is not over 2,000 words then it will still rank even if there are other posts that are longer in length.
It's important to consider user intent here and not just write content for content's sake – while chances are that longer articles are more likely to answer any questions that a user has, short-form content can be equally as effective if it quickly matches user intent and answers their purpose in short, effective language – something to keep in mind.
Add Internal Links
Including internal links in your on -site content will help to improve your SEO performance as it helps to identify which are the key focus areas on your website and to cluster topical content together to showcase your expertise on a particular vertical or topic.. An internal link is any link on your website that links to another page on your own website. Internal links are important because they will connect your website and make it a lot easier for users on your site to navigate and find the information that they are looking for. Internal links will also help when Google and other search engines are crawling your site because it will show them new pages that they can rank. They are always looking for new pages that they can rank for users but sometimes they will miss pages that you have on your site, internal linking will make sure that this doesn't happen, because if Google is crawling one of your existing pages and they find an internal link, they will also crawl the linked page as well.
When Google is crawling your website, any page that has a high amount of internal linking will be seen as important. So, it is likely that your website will have a main page that will focus on a particular topic and then this will be surrounded with other shorter articles that will go into more detail, these shorter articles should all link back to the main page so that Google knows that is the main page. As this main page starts to improve, it will also improve the ranking of the other pages that are linking to that main page, therefore improving the overall performance of your content.
Add External Links
External links are links that are used to direct users to another website. External links can be inbound or outbound. Inbound links are the links that come from other websites and outbound links are the links that are included on your website that direct your users to another website.
If you are correctly including outbound external links in your content, this can help to back up your expertise as well as linking your website to other credible sources – it will improve the credibility of your website. If you add relevant and trustworthy links to your website, Google will know that your content is trustworthy and credible so they are more likely to rank your site because they know that it will answer users' queries correctly.
When you are including external links in your content, it is important that the links are relevant to the topic that you are discussing on your page. If the content is relevant, then you are improving the overall experience for your users as you are allowing them to find out more information about their desired topic.
Optimise Readability
When writing content for your website, readability is extremely important, this refers to how easy it is to read and understand your content. If your content is easy to read and understand then you are improving the overall experience for the user and it is more likely that your users will be more engaged and potentially spend a longer amount of time on your website. This is an extremely positive sign for Google and other search engines because they will be tracking the behavior of your users and how long they spend on your website. If users are spending a long time on your website, it is indicating to Google that your website has high-quality content that users are interacting with easily so they are likely to rank your website higher, knowing that it will match the users intent. When considering the readability of your content, there are a few things to consider:
➡️Use legible fonts 
➡️Ensure your font is big enough 
➡️Use short sentences 
➡️Use headings for your paragraphs 
➡️Use visual content such as images
Why is On-Site Content Important for SEO?
Google and other search engines want to rank websites that are valuable and relevant to what users are searching for. Google often updates their algorithms so that their users are receiving the most relevant and useful information, an example of this is the helpful content update that was designed to help users find high quality content. One of the main aspects that Google will be looking at when ranking websites is the on-site content and whether or not it is useful for the users that are searching for specific information, so it is important that your content is optimised for your users. Optimising your on-site content is extremely important for SEO:
➡️It will improve your users overall experience – creating high quality content will provide your users with the information that they need and will be easy for those users to navigate your website. 
➡️Targeting keywords – when you are generating content for your website, this is the only way that you will be able to include your keywords onto your website and make sure that your site is found on search engine results pages when users are searching for your products/ services. 
➡️Improve online visibility – if you are creating content that is optimised for your users and it is useful content, it is likely that Google and other search engines will increase your rankings and your website is more likely to be found by potential customers.
Optimising your on-site content is crucial for SEO in order to create user-friendly content for your users and for search engines. By creating content that is providing a better user experience, you are showing Google that your website is optimised for your users and this will in turn allow you to rank higher on search engine results pages.