Case Study:
Hayes Garden World
Digital PR / Newsjacking / The Brexit Tree
Jumping On A Trending Topic To Make Christmas More Fun & Drive Valuable, Contextual Links.
At the end of 2020 all anyone could talk about was Brexit, it was a topic that divided the nation & divided families in the lead up to Christmas.
We saw this as an opportunity to put our newsjacking into play & worked with our client Hayes Garden World to create "The Brexit Tree" – a tree that would be suitable no matter the political persuasions of your Christmas guests.
We jumped on the trending topic of Christmas and created an imaginary product for the Hayes Garden World website, complete with video & product listing to seed out to the media, aimed at sparking debate, engaging discussion and most importantly building topical, relevant links back to the website.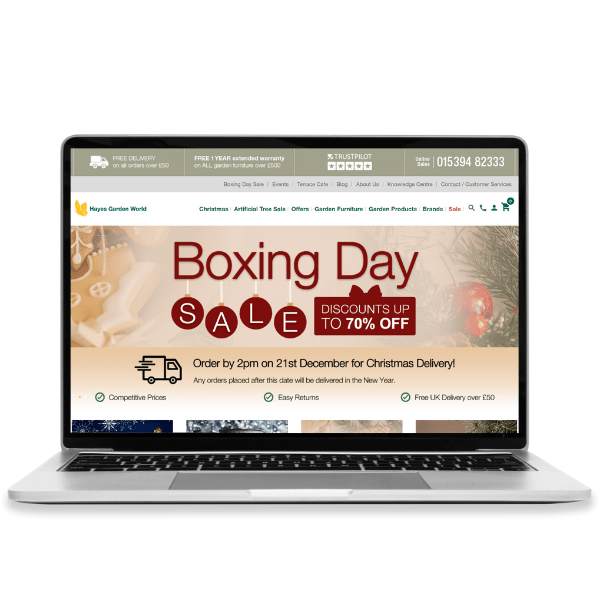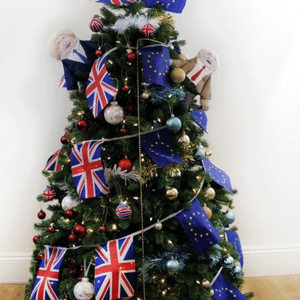 The Brexit Tree was a Christmas Tree designed to keep all members of the family happy – decorated 52% Leave & 48% Remain while set on a standing turntable allowing you to rotate it depending on which family members or friends would be visiting.
In addition, we decorated it with all of our favourite politicians & baubles labelled with "All I want for Christmas is EU", "I'm dreaming of a hard Brexit" & "Merry Brexmas".
We created a number of different assets for the tree ranging from high quality imagery & design-led photos through to a full video which operated as a sales video for the product.
Additionally, we created a landing page on the client's website which featured the tree for the hefty price of £1,000 – a great asset for journalists to link to.
We pulled together a range of press releases & a targeted media list looking at journalists that were likely to cover this type of fun, light-hearted content as well as lifestyle magazines, dailies, regional targets & many more.
The campaign was a resounding success, landing 37 links with an average domain rank of 72.
If last week's General Election hasn't quite cleared the political air in your household, Christmas may be a tricky time. Should you therefore fear that the most-heard "B-word" will end in "rexit" rather than "russels sprout" then a Cumbrian garden centre may have the perfect solution.
This full, artificial tree, manufactured by the National Tree Company, is woven with 500 warm white LED lights for a truly magical Christmas glow, and it's everything you'd want for a family Christmas tree. The final decorated look is nothing short of perfect.
Hayes have worked with Cedarwood for almost 5 years & have seen our business go from strength to strength with their advice & under their guidance. We partner with them for our PPC, SEO & large elements of our digital marketing & outreach. They are very proactive, forward thinking & always up to date with the latest marketing do's & don'ts & best practices. As a company we find them professional, friendly & extremely efficient. 
More Digital PR Case Studies