Case Study:
Certas Energy
Driving Visibility & Sales For The UK's Largest Home Heating Oil & Commercial Fuel Supplier With An Effective Content Strategy & On-Site SEO.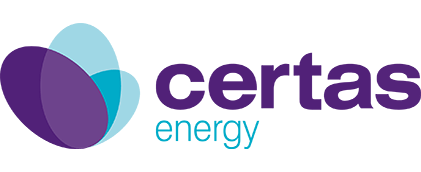 When we started working with Certas Energy they were struggling to gain non-brand visibility with no real ranking keywords for any of their non-brand products/services – especially commercial products – & also the products which were ranking being well outside the top 20 positions.
The brand was looking for an agency to drive forwards their online digital strategy & to help increase sales through its online sales platform for heating oil & also to drive enquiries for commercial products. 
With a client base that predominantly called to purchase heating oil, one of our main objectives was to change the user behaviour – driving more sales through the online platform, while also attracting a new customer base who perhaps hadn't utilised Certas before, or weren't aware that they could purchase heating oil online – helping to drive Certas into a more digital age.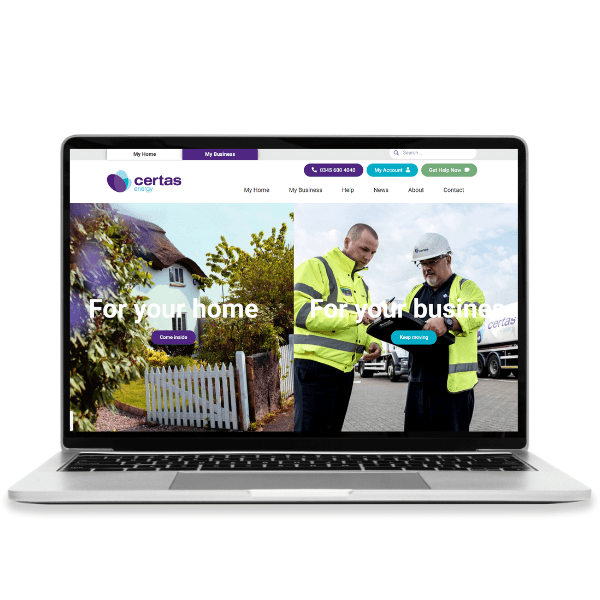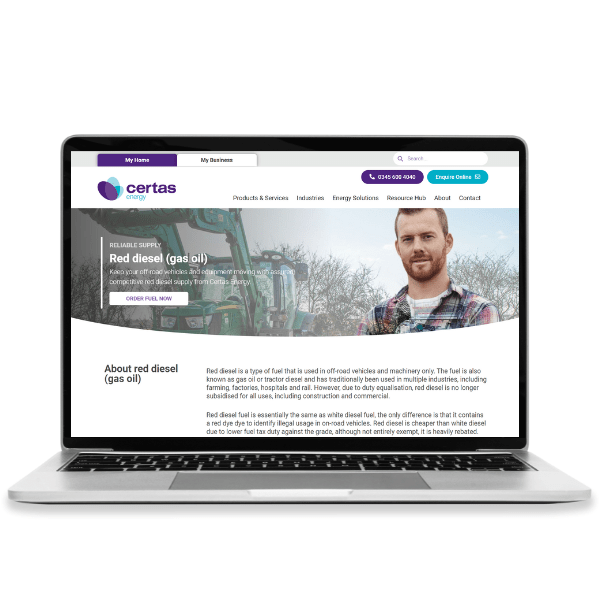 The initial strategy was multi-faceted, but we focused on the following:
– Content Strategy: Developing a solid content strategy to hel build new pages on the Certas website to target terms which were currently underperforming or outside the top 100 for key products & services
– Technical Optimisation: Helping to ensure that the website adhered to Google's latest Quality Rater Guidelines by reviewing speed/CWV & also crawl/indexation to ensure that Google could clearly access new pages, while also adding Schema to help Google better understand the content.
– Internal Linking & E-A-T: Developing an E-A-T & internal linking strategy that was designed to help channel link flow better throughout the website while also enhancing key E-A-T signals that the website had to show. As a website that fell into the YMYL category this was key to helping the website perform well with Google's algorithms. 
As a website which provided a service where users could purchase online, E-A-T played a key role in our SEO strategy & from the outset we delivered an audit to help enhance the website's E-A-T offering.
Our approach included reviewing the existing on-site trust signals & the way that they were presented, in addition to identifying FAQ opportunities & further ways to promote the website's expertise, while also adding key signals to Google that we were doing this through the implementation of FAQ Schema & associated mark-up.
Our second approach looked more closely at the internal linking structure of the website & evaluated how we could channel equity efficiently through it. As Certas is a well known brand links naturally are driven in volume to the homepage by reviewing the mega menu & also the internal linking situation we were able to better balance the links leading to more visibility for some of the deeper landing pages.
When we started working with Certas they had very little content on the website, which made it difficult to target a range of terms as we had no dedicated landing pages for them, specifically on the Commercial side.
As a result our initial strategy focused heavily on content development – building out key topic areas & themes to focus on the key commercial & domestic product range, enabling us to showcase expertise & the great range of products in a way that Google found easy to digest.
Within three months of creating this new content strategy we had delivered:
– #1 rankings for "Kerosene", "Commercial Kerosene", "Construction Fuels" & "Oil Suppliers"
– Top 3 rankings for "fuel suppliers", "gas oil suppliers", "domestic oil suppliers" & "Kerosene suppliers".
Enabling us to start to really grow & develop the Organic Non-Brand traffic offering, delivering new customers to the site.
In Top 10 NB Keywords YOY
YOY Organic Traffic Increase (2021)
Increase In Top 3 Keywords YOY
Cedarwood Digital are just like an extension to our internal marketing team family. We've been working with them for nearly 2 years now and some of the clever stuff they've come up with on our digital marketing campaigns has just been amazing. 
Amanda and her team's knowledge and ability to "pick up" a new industry is just fantastic and the results they've given us so far have really taken us forward and continue to do so on a month by month basis. They really do have all skill bases covered when it comes to digital marketing.