Growing The UK's Leading Independent Watch Retailer Both In The UK And Internationally.
Watches2U is the UK's leading independent retailer of watches, sunglasses & accessories. Since 2002, Watches2U has been selling watches around the UK and to over 31 countries worldwide & is quickly becoming known as one of the largest online watch retailers in Europe.
Over the last six years we have worked closely with Watches2U to develop their online presence, most recently through SEO. Watches2U wanted to grow their online presence substantially to be one of the UK's largest retailers of watches & sunglasses online & in addition, they wanted SEO support to grow their organic visibility while recovering from previous penalties.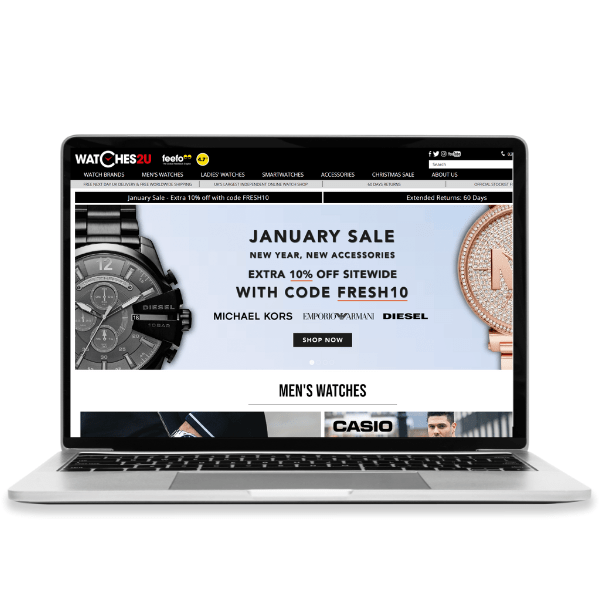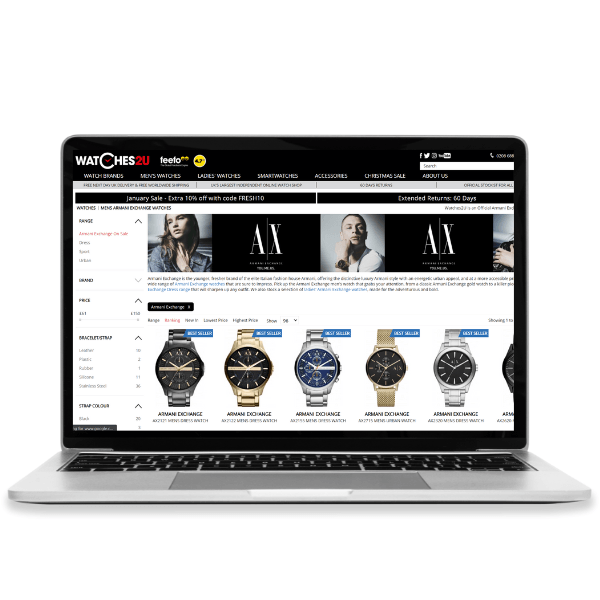 The initial strategy was multi-faceted, but we focused on the following:
– Full technical audit & optimisation to set a strong base level. When we started working with Hayes they had 5 versions of the website due to an issue within the CMS, this was quickly fixed
– Content strategy & support – we worked with their in-house copy team to provide briefs & drive guidance on how to create content that was not just SEO friendly, but also great for the user, in addition to using our own content resource
– Link acquisition – a key pillar of our work with Hayes has been link acquisition & we are hugely proud of the fantastic link profile the website has today. We don't just focus on links though, in 2020 we generated over £50k of income from products featured within top buy guides (non paid) thanks to our great relationships with journalists & also some great TV placements (non paid) with ITV
– Utilising in-house resource:  in-house Hayes have a number of experts, we worked closely with them to upskill & produce great content which journalists & users loved
Given that the Watches2U website was built to serve over 31 different countries, technical optimisation, particularly around cannibalisation & country targeting was essential to be able to ensure we were maximising exposure across each region.
Our technical approach included basic auditing of the website, evaluating the existing faceted navigation & URL structure to ensure this was maximised, reviewing internal linking & crawl as well as developing a clear internal linking strategy to improve how equity was passed through the website.
In addition, we undertook Server Log Analysis to optimise the crawl budget & ensure that the website was best placed to perform well across each of it's regional targets.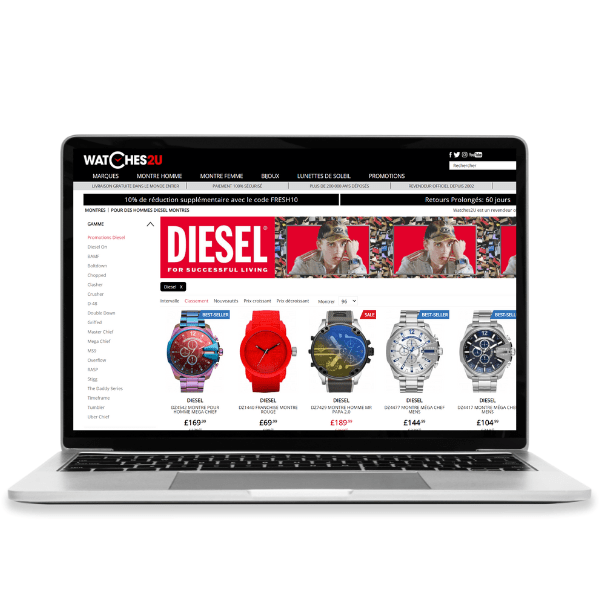 Digital PR & Link Acquisition
Link acquisition & product coverage played a key role within the SEO campaign as previously the website had suffered from a poor link profile & this needed to be fixed quickly!
Our approach was a mixture of Digital PR techniques ranging from Product Placement & Campaign work through to Newsjacking & jumping on trends – this allowed us to not only promote some great referral sales through to the website through top 10 lists & independent features such as The Sun Savers – but also to generate a good range of links from top tier publications to help grow the overall strength of the link profile. 
National Daily Newspapers
Increase In Top 10 Rankings YOY
We have been working with Cedarwood for many years now. We have always found them to be knowledgeable & at the forefront of their industry. In a highly competitive industry we have maintained exceptional growth thanks to their expertise in digital marketing.
Our campaigns have been optimised to way outperform the market and are continually refreshed to adapt to all external factors. I have always found them to be honest & direct.
I would have no hesitation in recommending the team to anyone seeking digital marketing expertise.