Case Study:
The Electronic Cigarette Company
Driving Visibility And Sales For One Of The UK's Leading Vaping Retailers
TECC approached us at the start of 2022 wanting to improve rankings, visibility and sales for a range of products across the website to help drive growth across the brand.
The project was designed to specifically help the on-site SEO performance through technical implementation and content updates designed to enhance the overall E-A-T signals of the website and help to push performance of a website which fell into the Y-M-Y-L space.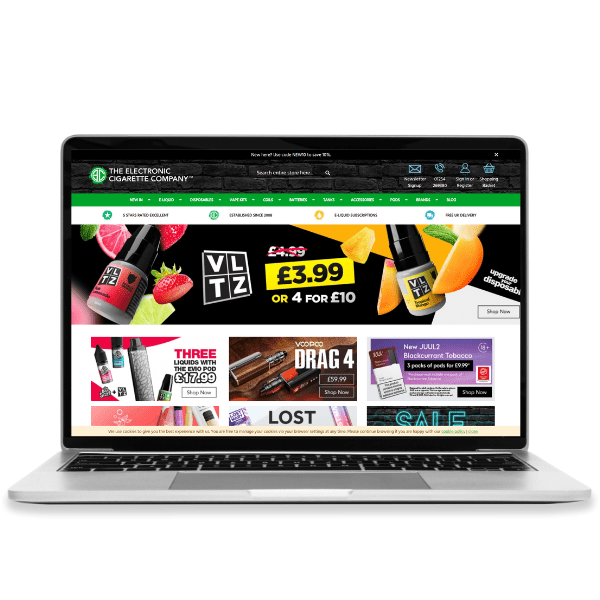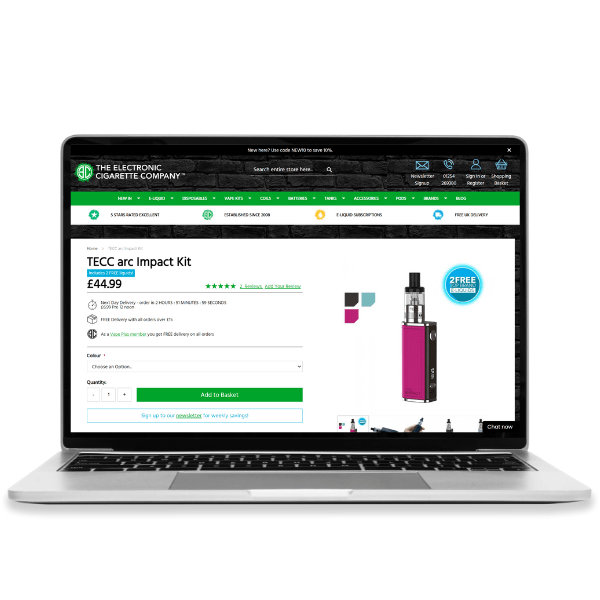 The initial strategy was multi-faceted, but we focused on the following:
– Content Strategy: Developing a solid strategy to enhance on-site content, focusing on performance of key category pages, product pages and also the connection with supporting content to help push key E-A-T signals throughout the website. 
– Technical Optimisation: A full technical audit to review website performance and identify opportunity. This was very in-depth and included log file analysis, link scoring, crawl and render emulation to evaluate ares of opportunity and pain points
– E-A-T: Auditing the website to ensure that it displayed key E-A-T signals, this is important to ensuring that the website is seen as an authority and trustworthy to Google.
E-A-T and internal linking played an important role within the campaign, especially as we had a very valuable blog section which we could utilise to push value back into the website.
Our internal linking project focused on prioritising category pages and supporting these in a "pillared" format with content from the supporting blog pages – this also helped to establish the category pages as the most important pages and helped to de-prioritise any blog pages which were ranking, hence avoiding any cannibalisation. 
To follow on from this we looked at how we could review and enhance the on-site signals to promote E-A-T throughout the website. This included reviewing the way that the on-site reviews were implemented, creating new guide style content formats and restructuring the product and category pages to enhance external and internal linking, while also showcasing key signals throughout.
Content played a key role in our work with TECC and at the start of the campaign we developed an effective content strategy designed to tackle three key areas:
Category Pages
Brand Pages
Guide Style Supporting Content
Our work across these areas focused on building out content which better matched user intent, answered the user purpose quickly and also contained relevant internal linking where required.
We also focused on building out the expertise of the main content by implementing key features such as FAQs which were designed to help showcase expertise as well as answer any queries that the users might have. By re-shaping the content we were able to offer a better user experience and really hone in on matching that all important user intent and purpose.
Increase In Top 3 Position Keywords
I first spoke with Amanda following a Google search for an SEO company in Manchester. At the time I was considering a change in partner and spoke with two others. I can honestly say from the very first call I was convinced that Cedarwood Digital would be the partner of choice. They would have had to really mess up the pitch.
I was privileged to work with Amanda and her team for about 6 months before changing jobs. During this time, it was an absolute pleasure. The business model is great, no account managers, just experts in their field talking to the clients as and when needed and with the right knowledge. Very open and transparent.
I would highly recommend Amanda and Cedarwood Digital to any business looking to partner with an SEO agency.