Lead Generation Agency Manchester
Award-Winning Digital Marketing Agency
As a business, generating leads will be your number one priority and you need an agency that you trust to do this. We have a proven track record delivering leads time and time again to a range of businesses, we know what it takes in performance marketing to deliver and we have a proven track record of doing this. To find out more visit our Case Studies or view our Testimonials below.
As an agency we are focused on your business goals, not online metrics, that means we are focused on what drives leads to you as an end user. Working with offline data and your own internal data, we will work to drive the best quality leads for you, mapping these right through from initial touchpoint on the website through to the end journey and keeping you up to date every step of the way.
Whether you are a B2B or B2C client we have a good deal of experience across both – we know the differences and how to adapt lead generation to work across both verticals. Our lead generation service focuses on marketing to the right kind of user, to save you time vetting the leads so we will always keep quality of lead as a key focus in addition to the quantity.
What Is A Lead Generation Marketing Agency?
Lead generation is always a hot topic for any business – as leads are crucial to any business success and a lead generation agency is designed to work with your business to help drive in additional leads, of the right quality, to help grow and develop your offering through an effective utilisation of marketing channels. Lead generation agencies are often onboarded by businesses to help them grow and at Cedarwood Digital that's exactly what we are here to help you do!
Lead generation marketing agencies can use a number of different platforms to market your brand and drive leads, or they can market them altogether, in an omni-channel approach. Whether it's paid media, earned media, owned media, PR or social media, there are a whole host of options available which can be tailored to your individual business need, helping you to drive your business forwards and driving those all important leads for your brand!
How Do We Approach Lead Generation?
As a marketing agency we understand how important lead generation is to your business, but we also understand how important it is to get the right leads from the right enquiries and that's why our lead generation approach is two faceted – initially to ensure we're visible and able to drive leads through to your website, but also ensuring that the way we target the marketing ensures that it drives the right kind of lead for your business.
After initially understanding your business needs, we will work with you to identify the right marketing mix to drive your lead generation. We'll also work closely with any internal data that you have as well as data that is in the marketing to identify potential audience targets, which allow us to really focus on driving the quality of lead.
Utilising tools such as offline conversions and your own internal data, we will map the marketing channels through to the endpoint so that we can see a full and final version of the user journey, this helps us to identify which marketing channels are generating leads that go on to be qualified or successful leads for your business, helping us to drive efficiencies across the campaign and maximising marketing opportunity in areas which we know are going to drive ROI for your business.
Don't Just Take Our Word For It...
Read through the feedback & testimonial from our recent award win – Best Small Integrated Search Agency at the 2022 European Search Awards.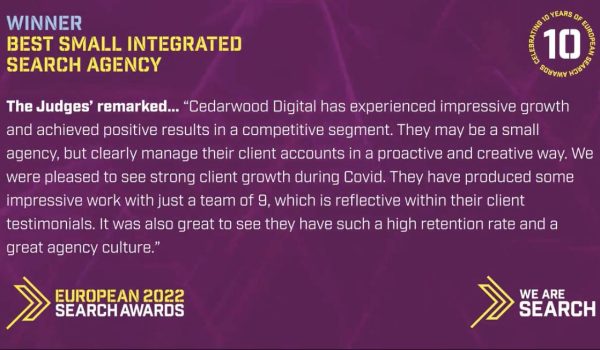 SEO or organic search is another great way to put your service in front of someone who is searching for it, at the time they are searching for it, and that's again a great way to tackle bottom of the funnel traffic. Our SEO service has a proven track record of delivering additional traffic and leads through to your website as well as a marked increase in overall visibility.
Paid media is a great way to put your service in front of an audience and generate leads. The beauty of paid advertising is that you're able to capture your audience when they need you the most – when they are searching for your product – and this is a great opportunity to really capture that bottom of the funnel traffic that are likely to convert on site and bring you a great quality of lead.
Digital PR is a great way to drive your brand online, build high quality links back to the website and improve your overall SEO offering. Our Digital PR service has a proven track record of delivering strong, high DR links which not only add real SEO value to your website, but which can also add value from a referral perspective of driving really relevant visitors to your website who could potentially turn into leads!
Effective reporting and data analysis is essential to ensuring that we are maximising the quality of leads and marketing output. Our reports are detailed and tailored to meet the needs of your business, this helps to ensure that we can undertake effective data analysis each month to identify further opportunities and also identify how marketing channels are performing to evaluate any updates or changes we might look to make.
Our paid social offering is designed to help you capitalise on marketing across a range of platforms, in particular Meta platforms including Facebook and Instagram. Paid social advertising has become increasingly popular in recent years and is a great way to get your brand in front of an audience, in addition to generating highly qualified leads, so this is a great channel to throw into the mix.
If you're looking to run lead generation on a slightly broader market then display advertising can be a great option and opportunity here. Display advertising works with image, video and interactive ads to market your business to a an audience of targeted placements and demographics – which can be hugely effective if you have a good idea who your audience is and how to target them.
Delivering a great user experience is all about an effective marketing funnel and remarketing is one of the most important parts of this. Effective remarketing helps you to remind an audience that you exist and also allows you to continue to nurture leads within a funnel, in addition to pushing users back into the funnel who may have moved away from your service.
Why Choose Cedarwood As Your Lead Generation Agency?
With a proven track record in lead generation and a key focus on the areas that really matter to you, our record speaks for itself. Our lead generation marketing experience doesn't just focus on driving leads to website, which of course is great, but it really focuses around maximising the efficiency across your lead generation campaigns and ensuring that the marketing campaigns are really hitting the audience that you need, not just improving your brand awareness, but also driving those all-important highly qualified leads.
As an agency we are highly data-driven, so we have a lot of experience working directly with our client's data sources and platforms to deliver great integrated results and deliver solutions that drive qualified leads. We're also experts in performance marketing, not a full service agency and this means that we can focus fully on your marketing needs and that our staff are fully up to date on the latest products and services in this space, which can give you the edge over your competitiors.
Digital PR for Lead Generation
Digital PR is an important tool for lead generation as it helps to build valuable links back into the website, in addition to driving that all valuable referral traffic and leads.
We have a proven track record creating solid link building campaigns designed to drive acquisition and growth across the board, these work very well for our lead generation campaigns and can help to drive valuable links which in turn can produce a great outcome for owned media.
We've got our ecommerce clients featured on:
What our clients say about our Lead Generation service
"Cedarwood Digital are just like an extension to our internal marketing team family. We've been working with them now for nearly 2 years and some of the clever stuff they've come up with on our digital marketing campaigns has just been amazing. Amanda and her teams knowledge and ability to "pick up" a new industry is just fantastic and the results they've given us so far have really taken us forward and continue to do so on a month by month basis. They really do have all skill bases covered when it comes to digital marketing."
Paul Hanley, Ecommerce Manager at Certas Energy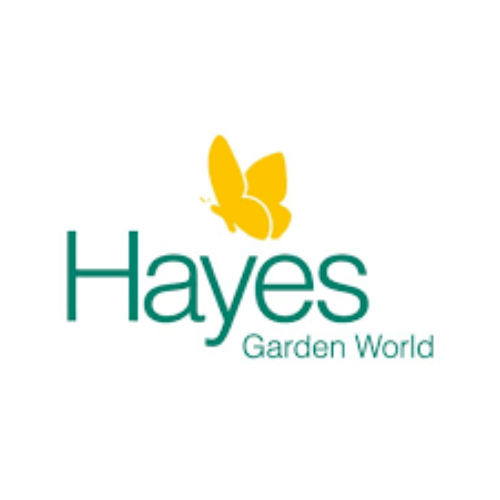 120+ Links Achieved
2,000,000 Additional Users
965 Top 3 Ranking Keywords

Working with Hayes Garden World to grow their online presence to become one of the UK's leading independent online garden furniture retailers.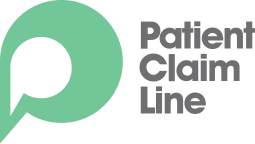 170+ Links Achieved
90% Increase In Top 3 Rankings YOY
#1 Rankings for "Medical Claims", "Medical Compensation" & "Hospital Negligence"
Helping Patient Claim Line to utilise SEO to effectively grow market share & volume within a highly competitive vertical.

82+ Links Achieved
47% Increase In Top 10 Rankings
428 Top 3 Ranking Keywords
Working with Watches2U to help grow their SEO both within the UK & also internationally across over 31 markets – helping them to drive forwards as the UK's leading independent watch retailer.
I first spoke with Amanda following a Google search for and SEO company in Manchester. At the time I was considering a change in partner and spoke with two others. I can honestly say from the very first call I was convinced that Cedarwood Digital would be the partner of choice. They would have had to really mess up the pitch. I was privileged to work with Amanda and her team for about 6 months before changing jobs. During this time, it was an absolute pleasure. The business model is great, no account managers, just experts in their field talking to the clients as and when needed and with the right knowledge. Very open and transparent. I would highly recommend Amanda and Cedarwood Digital to any business looking to partner with an SEO agency.
"Cedarwood Digital are just like an extension to our internal marketing team family. We've been working with them now for nearly 2 years and some of the clever stuff they've come up with on our digital marketing campaigns has just been amazing. Amanda and her teams knowledge and ability to "pick up" a new industry is just fantastic and the results they've given us so far have really taken us forward and continue to do so on a month by month basis. They really do have all skill bases covered when it comes to digital marketing."
I reached out to Cedarwood to help us try and use digital PR to secure organic links and mentions and step firmly away from the old black hat link acquisition methods that are de rigueur in our niche. Right from the off they were friendly and professional and throughout the pitch process demonstrated a good level creativity backed up by a thorough knowledge of SEO & SEM. They also had a high degree of confidence in themselves and their skills, all of which made the decision to contract with them an easy one. Initially, internally, there was some scepticism that Cedarwood (or any agency) was going to be able to deliver the sort of high value / high profile links that they were targeting. But they succeeded, and they continue to succeed to this day, gaining us frequent coverage and links on some of the highest authority websites in the country that will stand the test of time. I think it's fair to say that they surpassed our expectations, and I would have no hesitation in recommending them to any other prospective clients.
"Cedarwood are a crack team of digital experts who provide realistic, straight-talking, sound advise. I've had the pleasure of working with Amanda and her team over the past few years and thanks to their support we saw our inbound leads increase substantially in what is a difficult, long-lead service industry. These folks know what they're doing, and they do it in a no-BS, transparent way so you always know where you're at. Love 'em and would highly recommend 'em!"
"Having worked with Cedarwood for 4 years, I can honestly say that they have been instrumental in the continued growth and success of Patient Claim Line. The team are extremely knowledgeable, highly-skilled, friendly, honest & have the confidence to challenge our own internal decisions if they feel it in the best interest of our business & results. The team are always thinking of ways to build out campaigns & can be relied upon to continuously improve through their collective thinking & creativity"
Amanda and her team at Cedarwood worked with me on separate SEO projects over the years. Her drive, enthusiasm, professionalism and attitude shine through and of course the work is top level! Highly recommended.
"We have been working with Amanda and Cedarwood Digital for many years now. We have always found Amanda to be very knowledgeable and the forefront of her industry. In a highly competitive industry we have maintained exceptional growth thanks to her expertise in digital marketing. Our PPC campaigns have been optimised to way outperform the market and are continually refreshed to adapt to all external factors. I have always found Amanda to be honest and direct. Problems are dealt with efficiently and without excuses if they ever occur. I would have no hesitation in recommending Amanda and her team to anyone seeking digital marketing expertise."
"Hayes have been working with Cedarwood for almost 5 years and have seen our business go from strength to strength with their advice and under their guidance. We partner with them for our PPC, SEO and large elements of our digital marketing and outreach. They are very proactive, forward thinking and always up to date with the latest ,marketing do's and don'ts and best practices. As a company we find them professional, friendly and extremely efficient. Communication is always relevant and the understanding they have of our business and sector is hugely reassuring. Cedarwood is a company that goes the extra mile to understand your whole business in order to provide the most relevant digital marketing opportunities."
"Amanda and the rest of the team at Cedarwood are absolutely fantastic and a pleasure to work with. Amanda has an unrivalled knowledge of SEO and PPC, and is excellent at implementing effective digital strategies to help businesses grow. She also helped me significantly develop my own understanding of SEO and PPC."
"Amanda and the team are not only a pleasure to work with, but the results that they provide are fantastic. The overall business has benefitted hugely from the SEO and PPC activity and I look forward to continuing to work with them."
Advice from our Lead Generation Experts